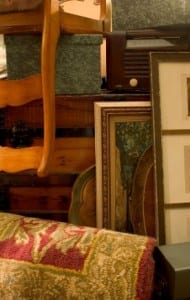 We always seem to finish the Christmas season with more than we need, don't we? Whether it's decorations that need to be stored till next year, or stuff we don't really want making way for the new stuff we do, we need to find somewhere to put it all.
Packing It Away
If you're intending to use your stored goods again, or if you're thinking of selling it or giving it away at a later date, it's important to pack it well. Use sturdy boxes, rather than slinging things in carrier bags, though remember you'll have to lift the boxes.
Pack items neatly so they fill as much of the space as possible, and if anything's breakable use soft packing around it, whether that's bubble-wrap or old clothes. Close the lid securely, but avoid stacking boxes too high, or they may not stand up to the weight.
Storing in Your Loft
If you have a loft, that should give you a substantial amount of space, where your unwanted things can be stored. However, a number of factors may have an impact:
Do you have a good loft ladder? If you're balancing on a wobbly stepladder, you may end up just stacking the boxes around the opening, rather than hauling yourself up into the loft, so you'll waste most of your space.
Is your loft boarded? This will make it far easier to take your boxes into the corners than if you're treading on joists.
Is your loft insulated? If you're storing anything vulnerable to temperature fluctuations or condensation, it's important to have warm loft insulation, allowing you to regulate the loft temperature along with the rest of the house.
Other Options for Storage
A garage that's not entirely filled by your car can offer useful storage space. In one way, it has the advantage over a loft that you won't have to carry the boxes up the ladder. However, unless the garage is built into the house, it's likely to be much harder to keep insulated and damp free than your loft.
If you have a lot to store, it could make sense to rent storage space. Besides comparing costs of the different options, it's worth making sure security is adequate, and also that you can get access to your possessions easily and quickly if you need to.
All these options will be right in certain circumstances, but using your loft is most likely to be the ideal solution.
If you're not sure whether your loft is suitable, you're welcome to contact us or call 0800 6128 933 our loft conversion experts for a discussion.