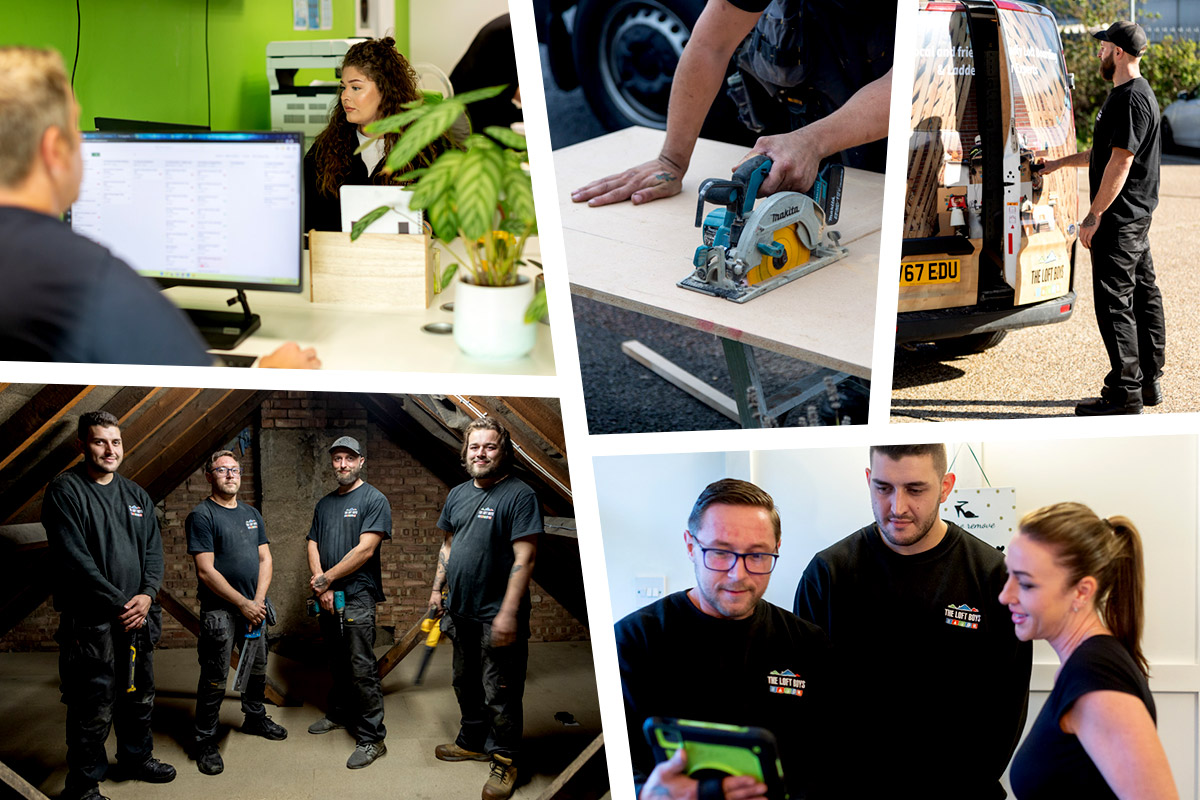 On this page, you'll find everything you need to start on the first rung of the ladder – excuse the pun! We're always on the lookout for excellent talent to join our hard-working team. So for a career with the biggest and friendliest loft boarding and ladder company in the UK, read on!
Contents
Use these quick links to jump to different sections:
So, Why Work for The Loft Boys?
It's a reasonable question! Why would you want to come and work for us anyway?
Well, to start with, we are a family business which started as a husband and wife team – Dean on the tools and Sharron organising everything – which has grown to a team of 20+ staff. You could say we're a big family; because of that, we look out for each other and give a helping hand when needed.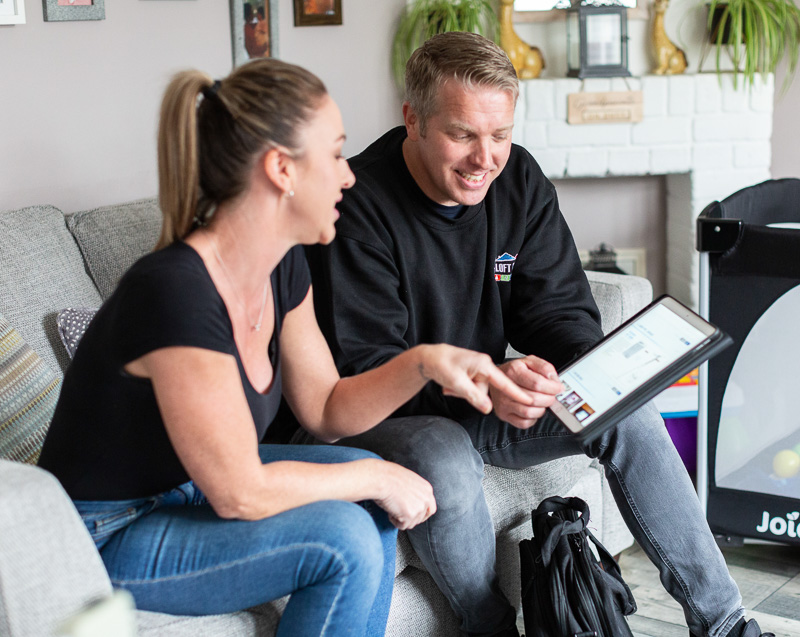 And this ethos extends to everything we do, including to our all-important, and highly valued customers. We bend over backwards to accommodate their needs, just as we would for our own family, and ensure that each job we do is as close to 100% perfect as humanly possible! This means using state-of-the-art quality control procedures on every job AND more straightforward methods like simply allowing plenty of time to get the job done. This dedication to high standards and thorough workmanship is why we're the leader in our industry.
And if you don't know what we do yet, start with our home page and check out some of our guide pages too.
Click here to see our current job openings.
What Our Customers Think…
Here's a flavour of the feedback we get from customers on a daily basis:
"Used The Loft Boys for the second time to install boarding in our new house. The job was completed in a timely fashion and to a good standard, and the team were clean and respectful of their surroundings. Overall very happy and would use it again."

– Another Happy Customer
"The guys were professional, efficient, clean and friendly. Would recommend."

– Another Happy Customer
"From the initial survey to the installation of the telescopic loft ladder and the boarding out of the loft, the process was smooth and professional. We would have no hesitation in recommending The Loft Boys."

– Another Happy Customer
"From the first phone contact to the finish of the installation The Loft Boys have been a real pleasure to deal with."

Another Happy Customer
You can read more great testimonials here.
Why are we showing you these?
Because we hope that gives you a good idea of what we do here. Which is to make every possible effort to excel and serve our customer's in the best way possible. And we couldn't do any of it – and we wouldn't be here today – without a solid team of hard-working, professional, respectful, and highly trustworthy individuals working for us. Do we make the odd mistake? Of course, we do, but we quickly own those and learn from them to become even better.
So, if you're passionate about doing a good job, each and every time, then join the team!
Employee Testimonials
We don't want you to just take our word for it – here's a selection of our team on why they enjoy working for us:
"I've been working for The Loft Boys since July 2021 and started at the company as a fitter's mate, then progressed to a team leader, and then took the offer of a role as a surveyor. What makes me want to continue working here is the people I work with, the high-quality service we provide and the decent wages. Compared to my previous jobs, I feel very comfortable working for The Loft Boys. It's a great working environment with a company that is striving to grow. I'd describe the company as professional, friendly and ambitious."
"My main responsibilities are boarding, insulating and helping the team leaders. What makes me want to continue working here is that I enjoy the company of the people I work with. I start my day by helping to load the van and then helping to complete installs. One memorable encounter with a teammate was with Wayne who helped me improve my skills. I'd describe the company as friendly."
"I've been working for The Loft Boys since October 2019 and I'm responsible for taking in all the enquiries and booking surveys. As such, I'm the first point of contact for the company.

What makes me want to continue working here is the fact I enjoy communication and problem-solving with customers. Plus, I work with an amazing team and manager.

My day is pretty packed, from scheduled calls to incoming enquiries. Recently we've had an influx of enquiries, so it has been a challenge for the sales team. But we have worked out strategies to help reduce stress. I really look forward to seeing an enquiry turn into a sale!

Compared to my previous jobs this is a smaller company and so all worries are addressed and dealt with. I'd describe the company as friendly, efficient and stretch-armstrong!"
George

Team Leader and Expert Fitter

"I've worked at The Loft Boys since October 2020 and my job is to aid and advise all members of the operations department on how to complete jobs to a high standard. And on top of that, I also handle installation jobs. One of the things that I enjoy most about working for The Loft Boys is the independence I have from running my own jobs. I also enjoy working on big jobs to a high standard as it gives my team and I, and the customer, great satisfaction!

This job is the most reliable one I've ever had and I'd describe The Loft Boys as professional, friendly and helpful. "
"I've been working at The Loft Boys since June 2022 my job is to aid team leaders with the installations. What makes me want to continue working here is the fact that I like the work that we do and seeing the transformation. I recently had a large 6-day job with George and it was nice to see the customer's reaction at the end. What makes me look forward to coming to work is working with my teammate and finishing the jobs off. This job is a lot better than those I've had previously working here is like being in a family."
"I've worked at The Loft Boys since November 2020 and as a surveyor, I am the first face the customer meets. I advise customers on the best possible solution for their loft space, and I quote based on customer needs. I then liaise with customers answering any questions. What makes me want to continue working here is the fact I am always pushed to do better, because I feel respected by all members of staff, and because I enjoy my job. I look forward to coming to work because I like being on the road and being independent and I also enjoy meeting new people. I would use one word to describe The Loft Boys which is 'family'. I started out as a fitter's mate which I enjoyed. I was then made a team leader but the role wasn't for me but I was then promoted to surveyor which I really enjoy."
Claire

Operations Coordinator

"My responsibilities at The Loft Boys include booking in and looking after the installation process; making sure the fitters have everything they need; managing the fleet vehicle maintenance; recruiting and interviewing potential new fitters; monitoring targets and data reporting/forecasting.

What makes me want to continue working here is the fact that I feel accepted and appreciated for who I am and what I can offer in terms of my skills and strengths. Excellent work is rewarded and personal growth and development are encouraged. My role is very varied and I enjoy having lots of different tasks and responsibilities. I love planning and organising so this job lets me excel at something I really enjoy.

In previous companies I've worked for my differences have caused me to feel excluded and like "the odd one out". At The Loft Boys, I feel accepted and appreciated for who I am. Being part of the LGBT+ community and on the autistic spectrum, my strengths are well utilised whilst my manager and colleagues understand my challenges.

I would describe The Loft Boys as a relaxed and friendly atmosphere where everyone can excel at what they're best at. People's individual skills are acknowledged and used to their best advantage."
Your Rewards & Benefits
As a cherished member of The Loft Boys (or girls), every staff member is nurtured to get the best out of them.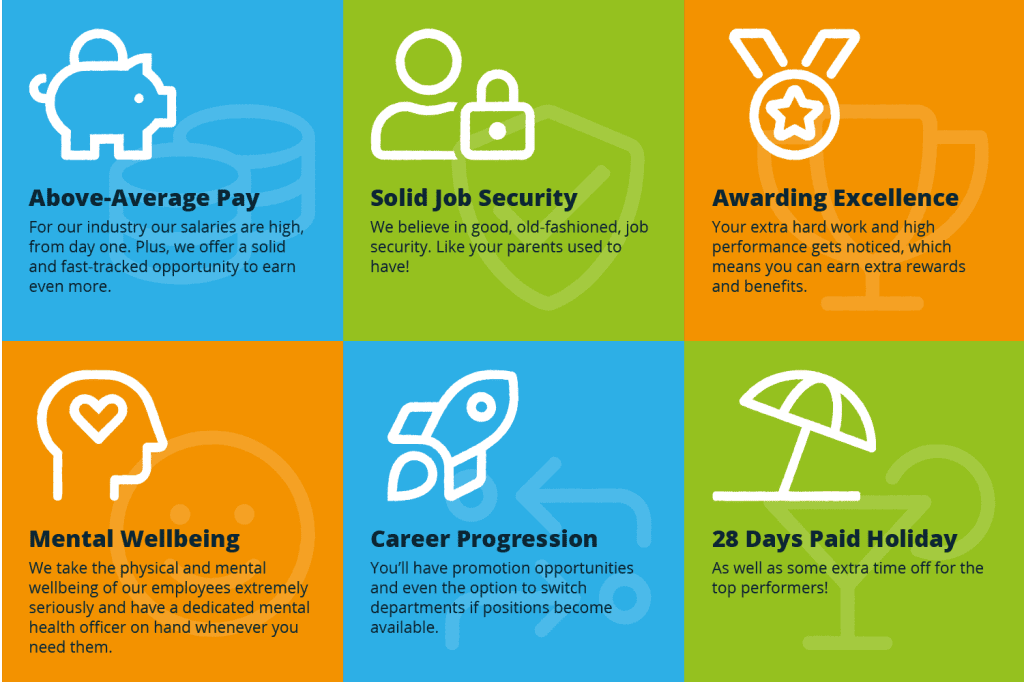 Here are the main benefits that you'll get as a valued member of our team:
Above-average pay for our industry from day one. Plus, a solid and fast-tracked opportunity to earn even more.
Good, old-fashioned, job security. Like your parents used to have! That means we won't ditch you at the first sign of trouble… if you're willing to put your all in, so are we.
Opportunities to progress your career within the company. You'll have promotion opportunities and the option to switch departments if positions become available. For example, our entire sales/surveying team is made up of ex-loft installers.
Your mental health is taken seriously. All of our staff have access to confidential & personal one-to-one sessions with our full-time, fully-qualified mental health officer.
28 days a year of paid holiday. As well as some extra time off for the top performers!
Enrollment in our Workplace Pension Scheme. This will offer you financial security in those later years.
And here are the best of the rest: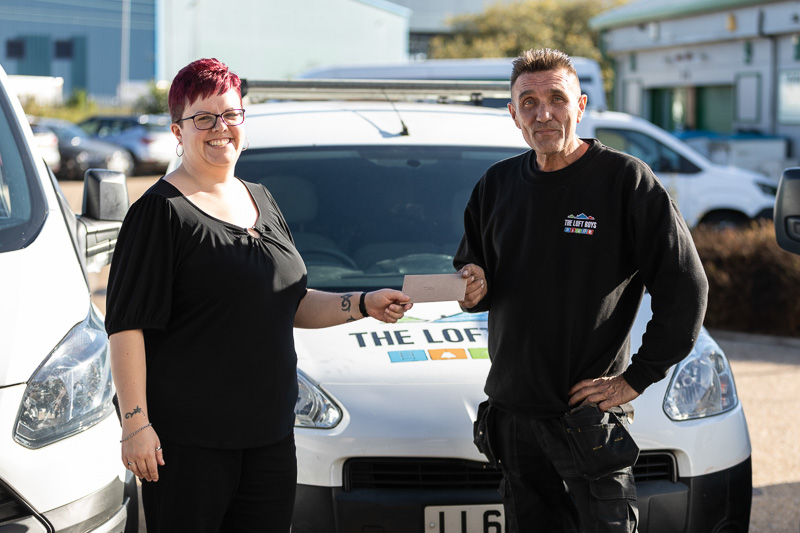 If your role requires training, you'll get it! For instance, our fitters go on a 12-week on-site training programme plus we also use external centres when needed.
You may get use of a company vehicle to travel to and from work, or for personal use (within reason!).
Everyone likes free stuff, and we love giving away free stuff, that's why we introduced our Recognition & Reward Policy.
We're in the process of looking at a shares scheme based on the John Lewis model which would give every employee a stake in the company.
All employees are automatically enrolled in our Recruitment Referral Scheme where you can earn even more money by assisting our growth.
You'll also enjoy our twice-yearly Away Day. This could be a day out doing something like Top Golf, Go Karting, or Clay Pigeon Shooting.
And finally…. Freedom! Breathing down the necks of our team every working minute isn't something we promote at The Loft Boys. We trust our team and believe that if we're all to function correctly we need to allow each team member to breathe correctly.
Click here to see our current job openings.
The Loft Boys' Core Values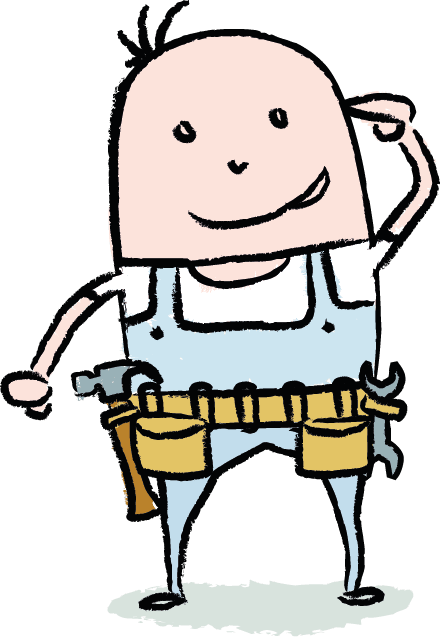 Okay, it's time to introduce you to someone special. This happy chappy is Lofty. You'll see him around here a lot. He's what you might call our company mascot or even, some may say, the 'Original' Loft Boy!
Lofty encompasses all of the Core Values of our company – as does everyone who works for us. And like Lofty we are: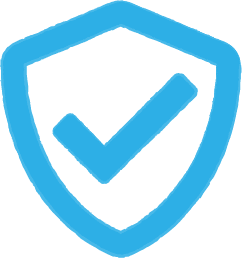 Reliable
We are fully committed to our individual responsibilities, meaning that as a team we can all rely on one another to help make deadlines and meet targets.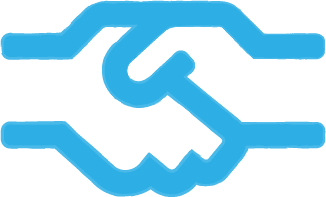 Integrity
We build and maintain trust and integrity through our genuine and honest actions in everything we do.
Respectful
We value everyone and treat people with dignity, politeness, and professionalism. We treat others how we would like to be treated.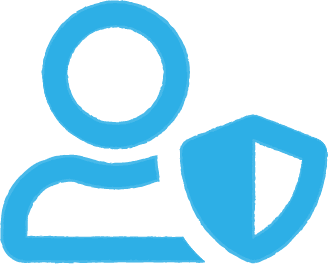 Accountable
We own our individual words, actions, and results. We never blame others for our mistakes and always keep ourselves above the line.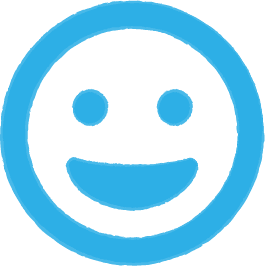 Friendly
We are empathetic and care about the feelings and concerns of others and are always open and approachable.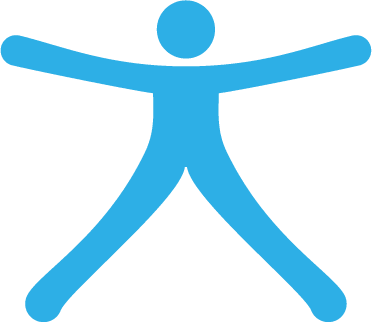 Finally, we are…
Stretch Armstrong
We are agile, flexible, fun and never break under pressure! And we are always looking to make more of ourselves.
We're an Equal Opportunity Employer
We are determined to ensure that no applicant or employee is treated unfairly because of their gender, age, disability, religion, belief, sexual orientation, marital status, or race, or because of conditions or requirements that cannot be demonstrated to be justifiable. As such, we are committed to meeting our statutory obligations regarding equal opportunities; individuals will be evaluated solely on merit and ability during recruitment, selection, training, development, and promotion throughout their employment.
Every member of our team is responsible for promoting equality of opportunity throughout the company, to our customers, and to the general public. We view infringement of this policy as a serious offence that may result in disciplinary action for gross misconduct.
Our Current Vacancies
We currently have the following job vacancies: