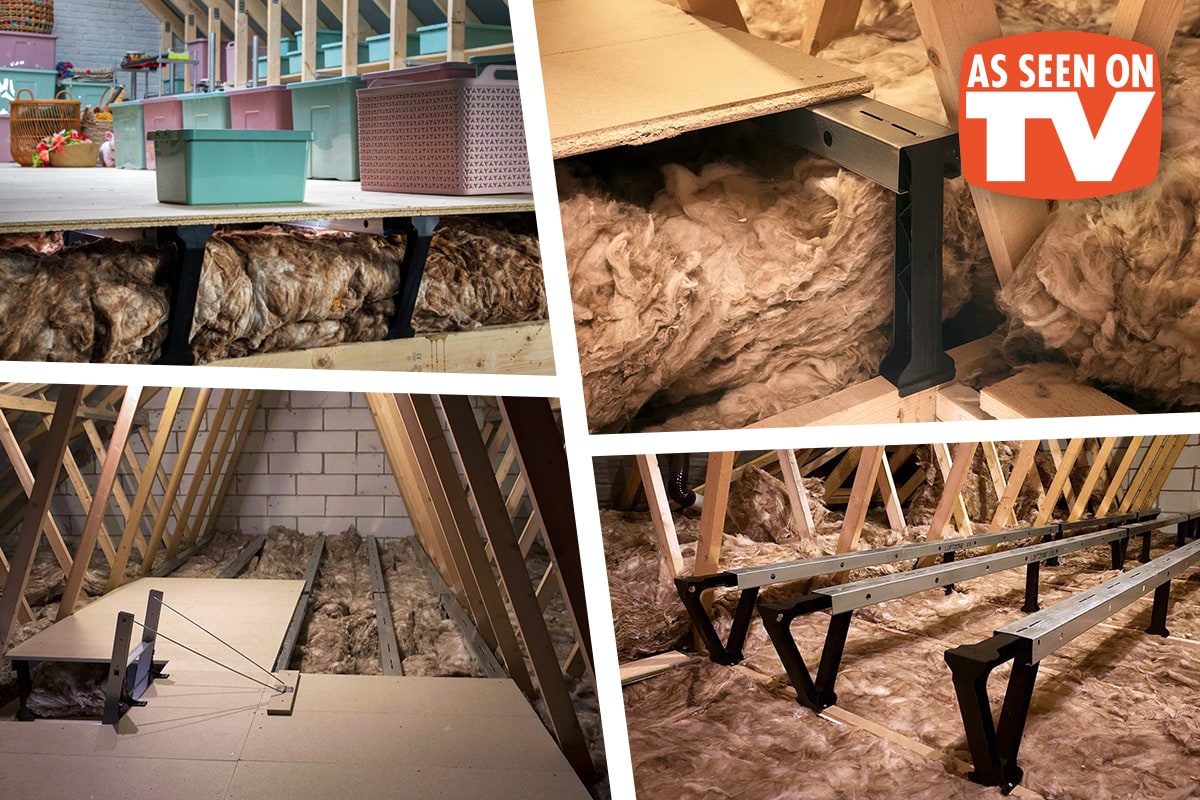 The Loft Boys are the approved installer of the fantastic and unique LoftZone™ StoreFloor system within the southeast of England. LoftZone StoreFloor is the only system of its type that has been approved by the government for installation in new-build properties throughout the UK.
Who is this guide for?
Anyone who's just a bit curious about the exciting world of loft lighting (each to their own!)
If you're shopping around between different loft-services-based companies and want to see what we offer
Anyone who thinks they need better or new lighting in their loft
Or if you would like to know how to install your own lighting
The estimated reading time is: 7 minutes
Guide contents
Use these quick links to jump to useful sections in this guide:
Why Use LoftZone?
LoftZone does, what traditional loft-boarding procedures can't! Not enough for you? Ok, let us tell you why.
Allows you to maintain the full height of insulation (to Government guidelines of 270mm without impairment)…..no squashing!
Maintains airflow between the underside of the flooring and the insulation (stopping the build-up of condensation and all associated problems).
Independently tested for safety. Giving you absolute peace of mind (read below for more information on safe storage limits).
Winner of the 'Best New Product' category at the Ideal Home Show & backed by The Carbon Trust.
Already convinced that you need to talk to us about LoftZone?
Why not have a chat with us about getting your loft sorted out?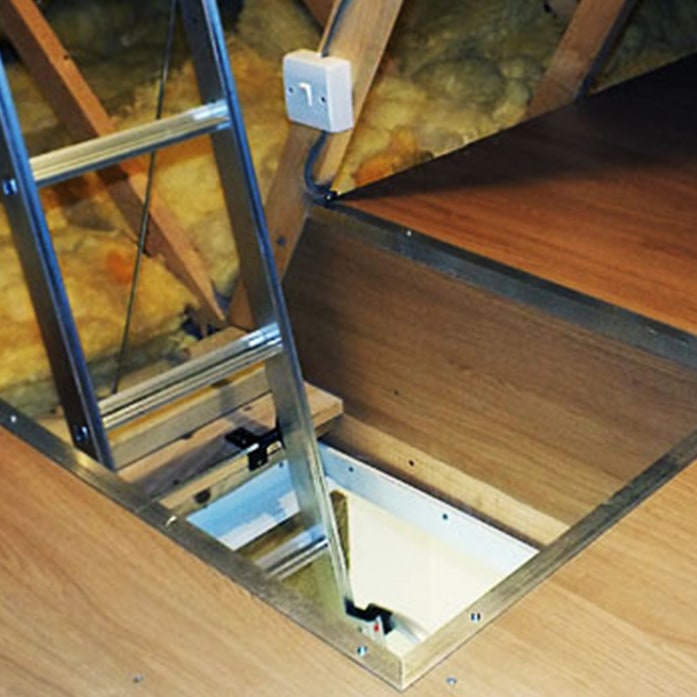 Insulation
As much as a third of the heat you pay for could be escaping through your roof! Loft insulation materials work by preventing the movement of heated air through the material.
Current regulations state that a minimum 270mm of loft insulation is required at the ceiling level.
Loft Insulation can help lower your heating bills, lower wear and tear on your boiler and reduce global warming and climate change.
Save up to 25% on your energy bills.
There are a number of grants and schemes available to homeowners which can substantially reduce the cost of installing these products.
Potential Savings
Since we last gathered these figures the energy savings possible have increased by between 145-195%!
| BUILDING TYPE | MINIMUM SAVINGS PER YEAR | MINIMUM CARBON DIOXIDE SAVING PER YEAR |
| --- | --- | --- |
| Detached house | £590 | 1000kg |
| Semi-detached house | £355 | 610kg |
| Mid terrace house | £330 | 560kg |
| Detached bungalow | £590 | 1000kg |
Figures gathered from the Energy Saving Trust and are based on fuel prices as of October 2022.
The current regulations under the EEC programme states that a minimum 270mm of loft insulation is required. Once the loft has been insulated to a minimum 270mm thickness, the ceiling joists will no longer be visible making the roof space hazardous to anyone attempting to enter. However, it is possible to arrange for additional joists and floor boarding to be fixed to help maintain your storage area.
Read more here: https://www.energysavingtrust.org.uk/home-insulation/roof-and-loft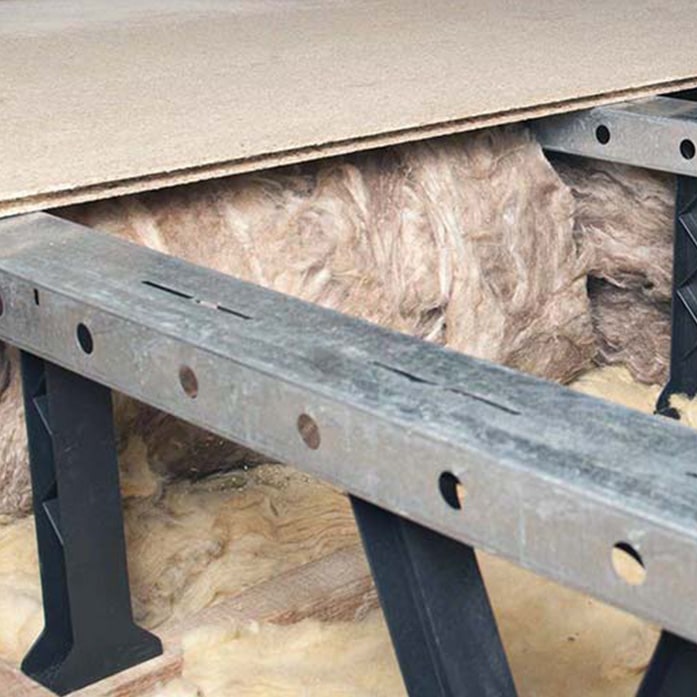 Condensation & Airflow
Condensation is caused when water vapour comes into contact with cold surfaces and condenses to form dampness or water droplets.
Water vapour is invisible in the air and is formed from the simplest of actions such as breathing and carrying out daily activities in the home.
If the warm air can't escape through an open window or air vent, it moves through the property until it finds a cold surface where it cools and forms condensation.
Controlling condensation in the roof space is imperative and the best preventative measure is ensuring adequate airflow at all times.
Water vapour can pass through most building materials and will enter the roof space through the plasterboard ceilings.
Click here for in-depth information on Condensation & Airflow.
Talk to us about getting LoftZone installed in your loft.
We'd be happy to arrange a free, no-obligation loft survey to talk through options.
Trussed Roof Limitations
The majority of new build properties now have roof structures formed with trussed rafters. This method is favoured by developers due to the speed of erection and the cost but brings limitations when attempting to utilise the loft for storage.
Trusses are much more than the sum of their parts and any alteration is likely to completely destroy the framework integrity of the truss.
Never cut a truss! This includes notching or drilling holes for cables to run through.
Standard trusses are not designed to be able to withstand any significant weight applied to them.
They have been designed to be as light and efficient as possible. Therefore, boarding directly on top of them is not advisable.
Careful calculations of weight distribution mean that LoftZone StoreFloor is the only safe and tested way of applying additional weight.
More information is available on the Trussed Rafter Association website.
So how does LoftZone eradicate these problems?
Through its clever design, vigorous testing and full approval to meet all building standards criteria, Loftzone is the most advanced flooring product on the market.
The LoftZone StoreFloor protects the insulation underneath it and provides a safe deck for access or storage.
It raises the boarding above the insulation below to ensure an airflow has been maintained.
It is a unique system with components that are strong and lightweight.
It forms a raised adjustable beam to allow for variations found in the spacing of joists.
How much can I store?
LoftZone StoreFloor is fantastically versatile and can be installed as a simple square platform, through to shapes that suit all manner of loft spaces.
Stored load per square metre 25kg.
Platforms can be placed anywhere with sufficient height above to store goods beneath.
Depends on the total size of the platform.
Talk to us about getting LoftZone installed in your loft.
We'd be happy to arrange a free, no-obligation loft survey to talk through options.
Would LoftZone have any negative effects on the efficiency of my loft space?
The answer is no (as long as it is installed correctly). It is essential that you abide by the recommended storage guidelines as per the product's independent testing.
Allows the government's full recommended height of insulation (270mm), ensuring maximum heat retention in your property
Raises floorboards above the insulation to ensure sufficient airflow passes between the underside of the boards and the top of the insulation
The resulting system is extremely strong, easily passing the British Standard 6399-1:1996 for minimum imposed floor load requirements
LoftZone StoreFloor is approved by the Carbon Trust

LoftZone™ is approved by the Carbon Trust and won 'Best New Product' at the Ideal Home Show.
Conclusion
Here at The Loft Boys, we install two main types of loft flooring for our customers… each of which has different benefits and is suited to different kinds of properties. Cross Bracing is generally the best solution for properties built before the year 2000 whilst LoftZone StoreFloor is a purpose-built solution for newer properties. Therefore if you're requesting a quote from us we'll always enquire about the age of your property plus we'll follow that up with a free on-site survey.
If you'd like to read more about all things 'loft', check out our loft boarding or insulation guides.