Thinking of getting a loft ladder installed and need to know what's out there? Looking to upgrade your old ladder to a shiny new one? Or need a bigger hatch so you can easily store those extra-large suitcases in your loft? You'll find the answers to these and many more questions below…
Who is this guide for?
Anyone who's just curious about what types of loft ladders are available and would like to know more
If you're shopping around between different loft ladder installation companies and want to bone up on your knowledge before taking the plunge
Anyone who thinks they need a better ladder or a larger hatch to make accessing the loft easier
If you're a bit handy in the DIY department and would like to know how to install your own ladder.
The estimated reading time is: 33 minutes
Guide contents
Use these quick links to jump to useful sections in this guide:
Your introduction into the exciting world of loft ladders and hatches!
Let's paint a picture. It's a cold Saturday morning in early December, circa 1987, and your dad decides it's time to get the Christmas decorations down from the loft. Because you're a young go-getter (and your dad's terrified he'll break his back and miss work) it's your job to somehow get into the loft and pass down that old dust-covered box filled with baubles and fairy lights.
So out comes the low-quality step ladder from the garage and you apprehensively set it up under the loft hatch. You then proceed to undertake what could arguably be one of the most dangerous things to do inside a home! Whilst precariously balancing on the top step of the ladder, you have to open the hatch and then haul yourself up hoping your skinny arms won't give up in the process. You then scramble around for the light switch, find what you need whilst trying not to breathe, and manage to get yourself and the decorations down without breaking your ankles. 😳
Does any of this sound familiar to you? Well, it doesn't have to be like that any longer folks. Up there with the invention of satellite dishes, mobile phones and electric nose-hair trimmers is the mighty loft ladder. Bearer of suitcases and champion of storage dreams.
Bit much? Yeah, you're probably right but there are some really good purpose-designed loft ladders available, that not only make getting into your loft safer but are also extremely easy to use.
What do we know about loft ladders?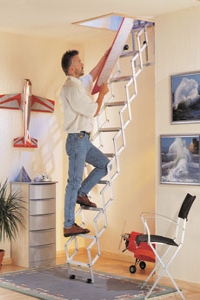 The Loft Boys was founded in 2009 to help people make more of their loft spaces and that includes accessing the loft. We encountered that scenario above all too often and so we built this company to provide a better solution. We were one of the first companies in the UK to offer a full solution that includes not only loft ladder installations but loft insulation, boarding, lighting and windows and electrical outlets.
There are big cost-saving benefits to getting your loft kitted out with proper insulation, boarding and a decent means of accessing it. Space is at a premium for most people so utilising every bit of it just seems like a no-brainer to us.
We've put this guide together to give you as much knowledge as possible about loft ladders and hatches. So that you too can go and get your loft sorted!
Do I really need a loft ladder?
If you have a loft and are still risking life and limb to get in it then yes, you should probably consider a decent ladder. Loft ladders have come a long way since the early days. Quite a few of the ones we install are spring-assisted and come with handrails which makes extending and climbing very easy.
We talk to a lot of customers who have reduced mobility and are worried about the challenges of accessing their loft. We are able to reassure them that a decent ladder is an answer. We'll go through some of the features that you'll need to consider before choosing a ladder in the sections below.
Have you already got a loft ladder?
If you've got a loft ladder already, awesome. It might be that it's still in good condition and doesn't need to be replaced. But conversely, it might be reaching the end of its life or could already be beyond repair. We asked one of our surveyors what he usually advises:
If loft ladders are installed really well and regularly maintained, they can last for years. But, if for any reason you feel unsafe on the ladder, maybe because it feels wobbly or loose then it might be time to replace it.

Some ladders can be repaired. There may be a need to add a very small amount of lubrication and remove any surface dust from the ladder. Dust can cause the ladder to bind if left to build up but this usually takes quite a long time to occur. I've recently recommended replacement ladders for customers where their ladders were unsafe or beyond reasonable economic repair.

TLB Surveyor
Installing a loft ladder and boarding the right way isn't easy
Doing it the wrong way could result in serious injury or worse!
Choosing the right loft ladder
The choice is often based upon preference and how cautious a climber you are. There are also many situations where the decision is more or less made for you due to restrictions with clearances in the loft and the room the loft hatch is positioned in. However, the majority of these restrictions have been handled through the design of some pretty impressive loft ladders. Before starting to look at the different ladders you'll need to arm yourself with a set of vital measurements. We're cover those below:
How to measure up for a loft ladder
The first thing that we always recommend is to measure the inside dimensions of the loft hatch opening. Make sure you take these measurements at the narrowest points of the open loft hatch, as all loft ladders specify a minimum opening and there is nothing more frustrating than making your choice only to find it will not fit.
Then the next step you need to take is to work out the clearances. Below is a short set of instructions on how to get those vital measurements that will help you figure out which ladders you are able to have.
And by the way, if this is a job too far you don't panic… our surveyors will do this for you for free and with no obligation to use us for the ladder install.
So, ready to get measuring? You'll need a way of safely getting into your loft and you also need a tape measure.
1. Loft hatch dimensions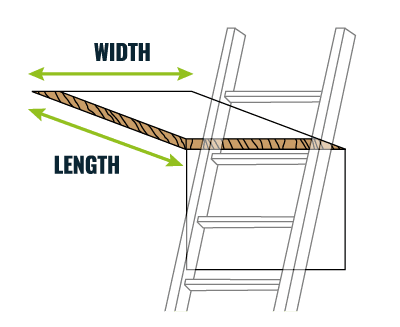 Each loft ladder we supply has its own minimum size of loft opening needed to operate.
You now need to record the width and length of your loft opening.
Don't worry too much if your existing loft opening is smaller than the minimum requirement needed for a particular ladder. Extending your hatch size is possible (by an expert) and it probably costs a lot less than you think!
Just take into consideration any obstructions, pipes or electrical wires that may determine the maximum size of any loft opening enlargement.
2. Vertical clearance inside the loft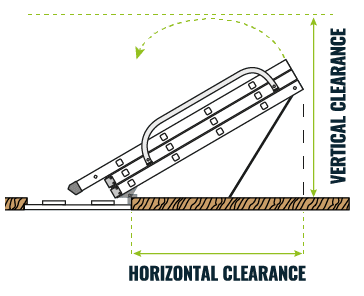 Next, work out which side of the loft hatch you would like the ladder to be hinged (inside the loft).
Then measure from this side of the hatch vertically towards the roof, or any other obstruction sitting above this side of the loft hatch and record the measurement.
This obstruction may be a timber loft brace spanning or it may be the roof itself, (whatever is closer to the top side of the loft hatch).
Make sure you take the measurement from the topside of the hatch (the floor of the loft).
3. Horizontal clearance inside the loft
Now, from the same side of the hatch (loft ladder hinged side) measure horizontally to the closest obstruction, running your tape measure across the loft floor or loft boarding travelling away from the hatch.
Record this measurement.
4. Floor and ceiling heights
You will now need to take the measurements from the loft floor, where the foot of the loft ladder will land when in use, and measure vertically up to the loft hatch.
Record both floor to ceiling height and floor to loft floor height.
You should find there is a difference of approximately 12cm between the two measurements.
5. Below loft clearances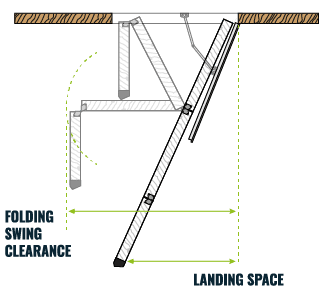 Each loft ladder requires a minimum clearance where the ladder meets the floor that it will rest when in use.
This measurement should be taken from the hinge side of the ladder horizontally along the floor to the nearest obstruction.
Folding ladders will also need a minimum swing clearance. This is the arc of the ladder as it is being folded when bringing it out or putting back into the loft.
This needs to be measured from the hinge end of the ladder horizontally along the floor to the nearest obstruction.
These measurements are the basics needed to determine which loft ladders are going to be suitable for your loft space. Obviously, you may find yourself to be one of the lucky ones that get the pick of the bunch. The decision is then down to your preference and budget.
You may also want to extend or re-locate your loft hatch opening. If this is the case then you will need to bear in mind any electrical wires or pipework. This may be trailing near the area you intend to carry out the work. Always make sure you obtain genuine solid advice if you're thinking of cutting any structural loft timbers to form a new or extended loft hatch opening.
Need help choosing the right loft ladder?
If you'd like to talk to us about which ladder would be suitable for you please get in touch with us. You can either go ahead and request a quote or estimate or just ask for more info.
The different categories of loft ladder
At The Loft Boys we like to put the ladders we install into two main categories, independent and integrated. Independent ladders are supplied without hatches so those need to be installed separately (there are several types of hatches that we work with – see below). Integrated ladders come with a hatch that's supplied by the manufacturer and which is attached to the ladder. These types of ladders can be quicker to install since there's no need to construct a separate hatch.
Quite a lot of the ladders we install are made by FAKRO which is one of the world's leading producers of loft ladders. We've included a few of their videos further down this page showing off their ladders.
There is also another category of loft ladder we seldom work with which are called wall or vertical access ladders. These types of ladders are more commonly required in commercial premises. If you already know that you need this type of ladder just get in touch with us.
And to make our lives even more interesting we then categorise our ladders further into the following: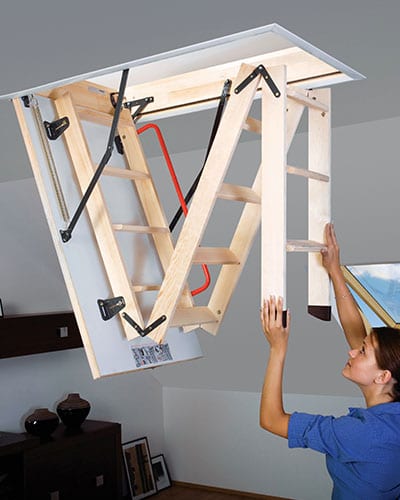 Folding Loft Ladders
This type of ladder is becoming increasingly popular with people who want to make good use of their loft space. These ladders come complete with a fully integrated loft hatch casing. This is normally pre-mounted onto a fully insulated and draught-proof white trapdoor. That makes it a good choice for anyone looking to save on heat loss and cut out the overhead of painting.
The folding action of these ladders also means that when stowed they don't take up much space. Typically the ladder sits directly on top of the loft hatch trapdoor when stowed. This saves valuable loft floor storage space. They also come in either timber or steel construction.
These types of ladders may require a longer hatch than you currently have so it's important to take note of their specifications before making your choice.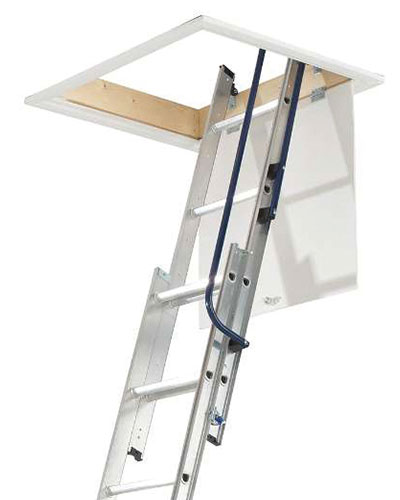 Sliding Loft Ladders
This is a popular type of loft ladder and it's ideal for those looking for a simple means of access to their loft. It's designed for occasional domestic use so if you're planning on using the loft every day – or even a few times a week – you'll need something more robust. These loft ladders usually work independently from the loft hatch trapdoor, and as is common, are operated using a pole supplied with the ladder.
One of the big downsides of sliding ladders is how much space they take up in the loft. The cheaper models can also feel quite flimsy which would make a lot of people feel unsafe whilst climbing.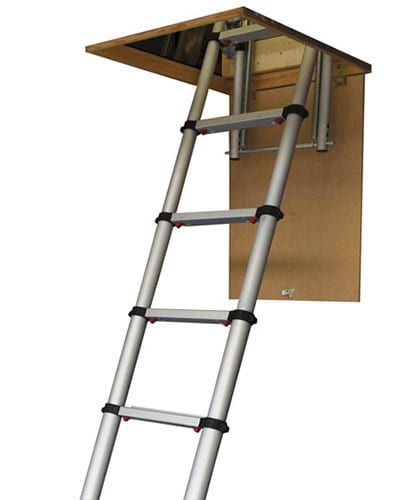 Telescopic Loft Ladders
Telescopic loft ladders are a very advanced type of loft ladder through their unique design and operation. This unique telescopic design allows for this type of loft ladder to be installed into the tightest of spaces and they require minimal space within the loft when stowed. This type of loft ladder boasts an absolutely smooth and effortless operation. The 90mm deep treads make climbing comfortable and more importantly, safe.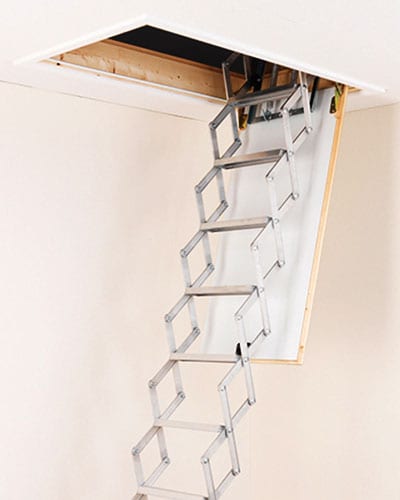 Concertina Loft Ladders
Concertina loft ladders were designed for lofts with limited space around the loft hatch. This type of loft ladder, when in its stowed position, sit directly above the loft trapdoor. As a result, they are a solution for a loft hatch that is tight to a wall or anything else that may be an obstruction.
Although we have installed these types of ladders in the past we no longer promote them. And we've had requests from customers to take these out and replace them with other types. That's because we've had a lot of feedback that they can be quite unsteady once extended.
If space around the hatch is limited and it's not possible to extend the opening then a telescopic ladder is a much better option.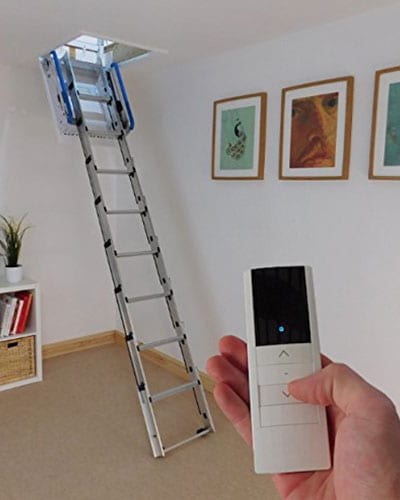 Electric Loft Ladders
These are a fairly new category of loft ladder and not one that we currently install. That's because we haven't had many inquiries about them to date but we may consider them in future. There are a few companies supplying these in the UK (including one of our competitors, ahem). And as you can imagine these are going to be more expensive than most ladders and require a power supply. The one in the picture is called the Loftomattic, which we think sounds like something out of a Wallace & Grommit movie.
We'll be keeping an eye on this category and we must admit, they are pretty cool!
Common ladder features
In this section, we're going to give you the lowdown on what features you should know about before making a choice.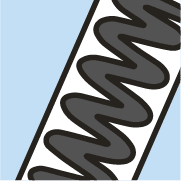 Spring-assisted
Spring-assisted ladders are easier to lower or stow away which makes this our top ladder feature by far as this is definitely one of the most useful features available. You'll generally have to pay a little more for this feature, but not that much. It's highly recommended if you think you might struggle to pull the ladder down or lift it above head height. Also, some springs are more powerful than others!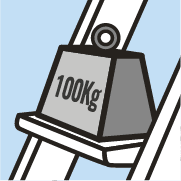 Max load
The maximum weight or load for loft ladders usually starts at 100Kg and goes up to around 200kg with the Fakro metal range being the strongest that we currently supply. To put that in perspective, 100 kilos is 15.7 stones or for the zookeepers out there, the average weight of a newborn baby elephant!
When choosing a ladder be sure to factor in you're own weight plus any boxes you'll be carrying!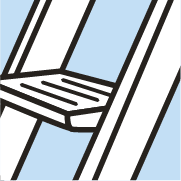 Non-slip treads
Proper treads are essential for climbing safely and their depth can vary depending on the ladder. If you're already a bit unsteady when climbing then deeper treads are well worth considering.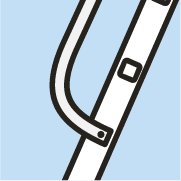 Handrails
None of us is getting any younger amiright?! Most of The Loft Boys are knocking on 40 or beyond and we really love a good handrail. Some ladders come with several handrails and their lengths can vary. You can also get extra ones if you need them.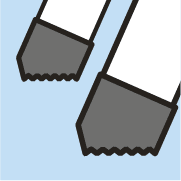 Rubber feet (also called 'stile ends')
These are a must if you have a wooden or laminated floor where the ladder's feet will be standing as they protect the floor surface and also add to the overall stability of the ladder. And even if you have carpet these will help keep it from getting too much wear and tear.
Loft ladder materials
Loft ladders are commonly built from aluminium, steel, or wood. Aluminium is generally a decent choice because it is lightweight but still very strong plus since it's a rust-resistant metal, it's less likely to be affected by humidity and temperature than a wooden ladder.

That being said, wooden loft ladders often use pine timbers which also make them light and strong and a good quality wooden ladder should last for many years. Our most popular ladder is a timber folding variety as customers like the way it looks and think it's a better fit for their home than the more industrial looking metal variety. You will pay a little more for a wooden ladder though.
Now for some shameless self-promotion!
We really hope you love this guide so far and are finding it useful (have you checked out our other guides yet). If you'd like some great reasons to choose us to sort your loft out, we've put together a video just for that here:
Now, let's have a look at some actual ladders…
Here we take a more detailed look into a selection of the most popular ladders we install. Before you start, it's worth bearing in mind that The Loft Boys have tested a lot of ladders over the years. Some of which we no longer recommend or install. We're not saying this is absolutely the best bunch of ladders out there, but they are the ones we feel most comfortable recommending to our customers and loved ones alike. So without further ado…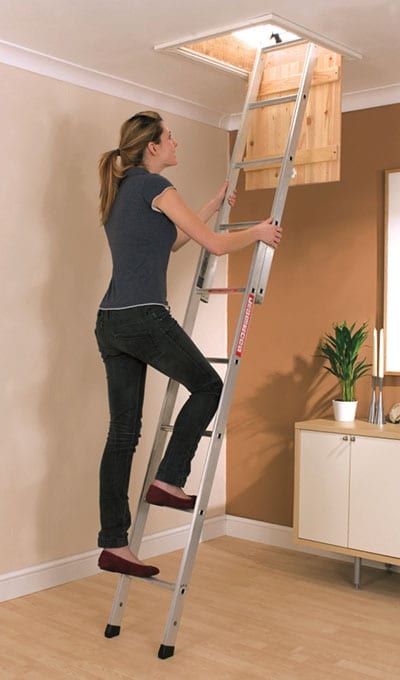 Basic 2 Section Loft Ladder
This 2 section sliding metal ladder is a low-cost solution, ideal for occasional domestic use. It operates independently from the hatch.
Up to 150kg max load
Optional handrail
Lightweight aluminium
Max. floor to floor height of 2.6m
For minimum hatch size of 406mm x 457mm
Non-slip treads
Rubber feet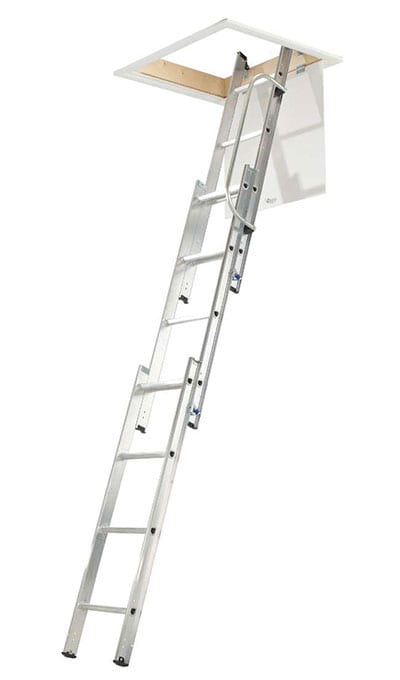 Basic 3 Section Loft Ladder
This 3 section sliding metal ladder is a very popular solution. It's the same as the Basic 2 Section but with:
Handrail as standard

Max. floor to floor height of 3m
For minimum hatch size of 432mm x 508mm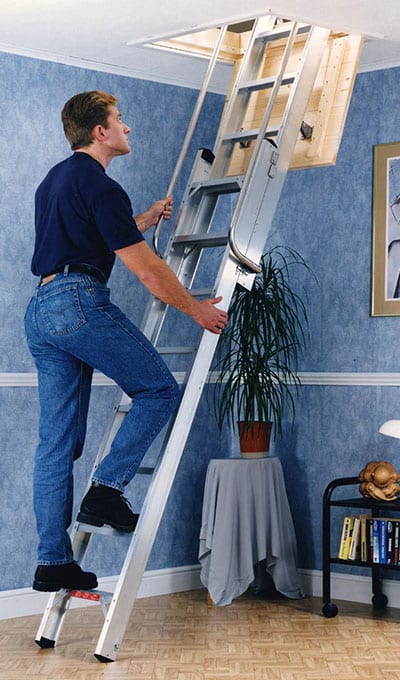 Deluxe 2 Section Loft Ladder
This top-rated deluxe 2 section sliding metal ladder is perfect for frequent, daily use, and features a powerful spring action that makes lowering or stowing effortless.
Up to 150kg max load

Full reach double handrails
Spring-assisted
Lightweight aluminium
Max. floor to floor height of 3.2m
For minimum hatch size of 508mm x 686mm
Non-slip treads
Rubber feet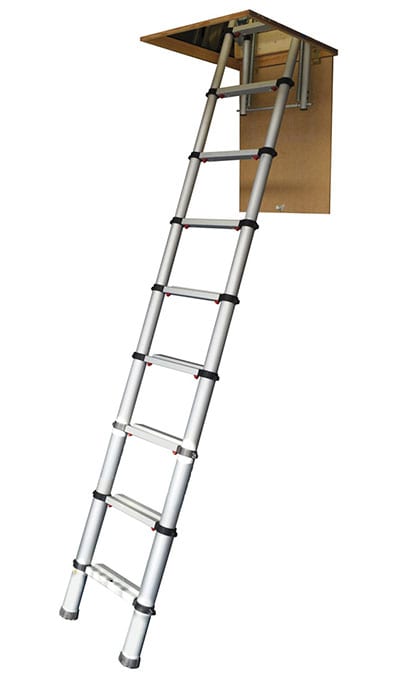 Telescopic Loft Ladder
This is one of the most advanced loft ladders we offer. The unique telescopic design allows for installation into the tightest of spaces. It's also spring-assisted with extra deep treads for ease of use.
Up to 150kg max load

Extra deep non-slip treads
Spring-assisted
Lightweight aluminium
Max. floor to floor height of 2.88m
For minimum hatch size of 520mm x 620mm
Rubber feet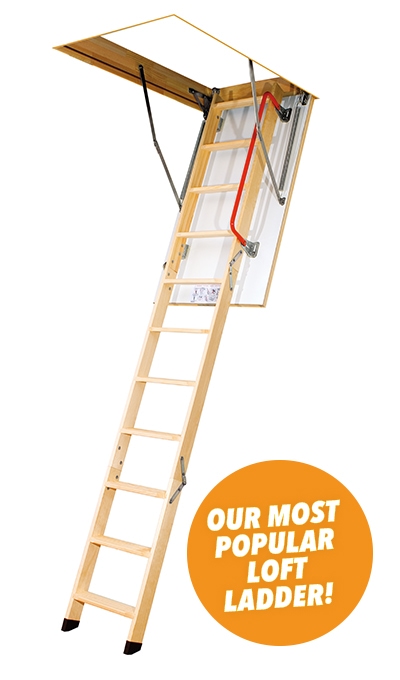 LWK Timber Folding Loft Ladder & Hatch
The LWK loft ladder by Fakro is by far our most popular ladder to install. It comes with a handrail, non-slip treads and a white finished hatch. This should be your first choice if you're looking for a basic but elegant timber loft ladder!
Up

to 160kg max load
Lightweight timber
Heat transmission of U=1,1
Max. room height of 3.05m
Non-slip treads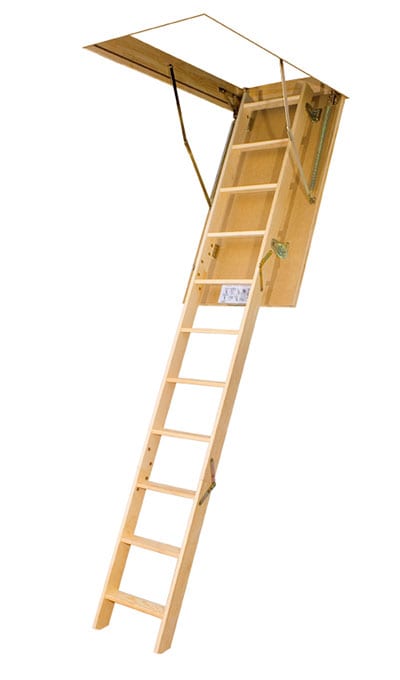 LWS Timber Folding Loft Ladder & Hatch
The LWS timber folding loft ladder comes pre-mounted onto an insulated, draught-proof but unfinished trapdoor and hatch. It's ideal for people looking for a fully integrated ladder but who wish to finish in a colour of their choice. Supplied in either a 3 section or 4 section design, depending on the size of the hatch.
Up

to 160kg max load
Lightweight timber
Heat transmission of U=1,1
Max. room height of 3.05m
Non-slip treads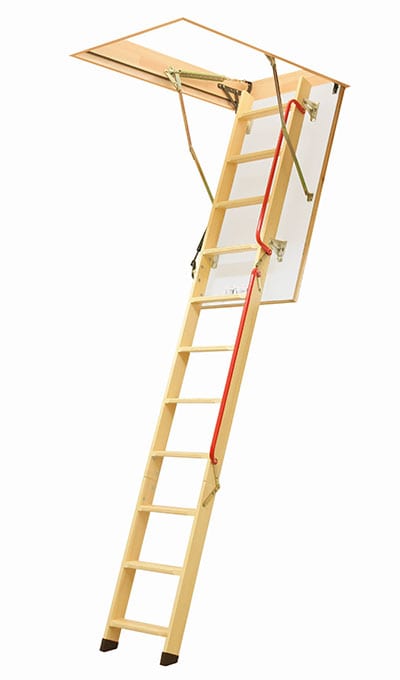 LWL Lux Timber Folding Loft Ladder & Hatch
This ladder is similar to the LWS but comes with a pre-finished trapdoor, making it ideal for people looking for a fully integrated and low maintenance ladder. Includes a double-section handrail, ladder support and unloading mechanism for even safer use.
Up

to 160kg max load
Single handrail
Lightweight timber
Heat transmission of U=1,1
Max. room height of 3.05m
Non-slip treads
Spring-assisted
Rubber feet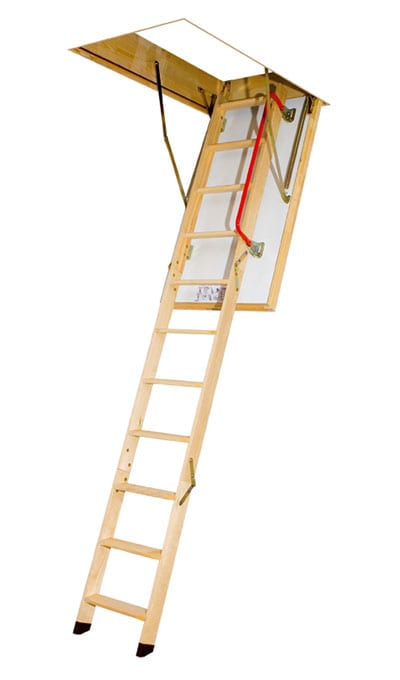 LTK Thermo Timber Folding Loft Ladder & Hatch
This ladder is similar to the LWL but the trapdoor is completely airtight, which achieves a U-value of 0.76. This makes it the ideal ladder for properties with significant temperature differences between the habitable space and loft. Supplied in 3 section only.
Up

to 160kg max load
Single handrail
Lightweight timber
Heat transmission of U=0,76
Max. room height of 2.8m
Non-slip treads
Rubber feet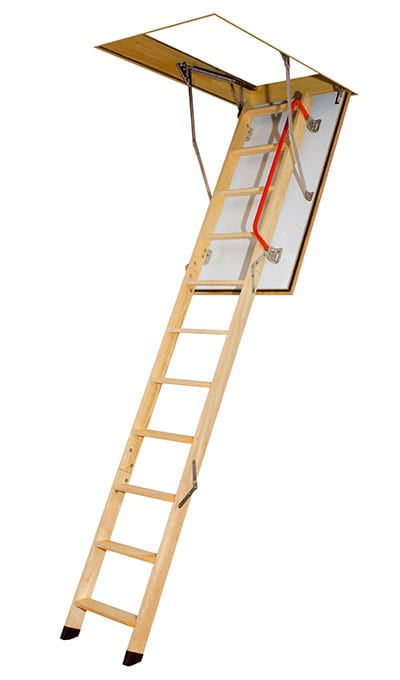 LWF Timber Folding Loft Ladder & Hatch
The LWF fire-resistant timber folding loft ladder acts as a blaze-block in the event of a fire inside the building, thanks to its high fire-resistant properties, (EI2: 30 min). The LWF is perfect for installations subject to stipulations as specified in the building regulations. A unique special unloading mechanism eliminates the need for a lock.
Up

to 160kg max load
Single handrail
Lightweight timber
Heat transmission of U=0,9
Max. room height of 3.05m
Non-slip treads
Rubber feet
Spring-assisted
How much does a loft ladder cost?
We sell a basic 2-section sliding loft ladder at £186 including VAT and installation (as part of a larger loft package which includes loft boarding or insulation). Prices can then go up to over £724 for premium quality ladders. It is possible to buy just the ladders from various sellers such as B&Q and Amazon and prices start at around £50 for entry-level models. If you're going for the cheapest ladder possible please read the reviews and specifications thoroughly. Cheap ladders can be really flimsy and are not suited for regular use. Therefore paying a little more money at the beginning may save you quite a bit more in the future.
What about a warranty?
Most of the manufacturers who supply our ladders offer a 3-year warranty. At The Loft Boys, we believe that should be longer so we extend it to 5 years and our warranties cover every part of our installation work.
You can prolong the lifespan of your loft ladder with a few simple procedures. Find out more below.
And for a more detailed answer as to why we don't think it's possible to offer more than a 5-year warranty check out our FAQs page.
Ladder accessories
At The Loft Boys, we supply a small range of accessories that complement some of the ladders or hatches that we install.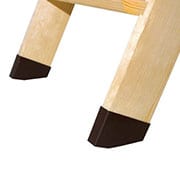 Stile Ends/Feet
Plastic ladder feet and floor protectors. For 3-section design only.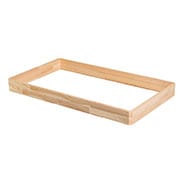 Box Extension
This internal lining box extension provides a tidy finish that covers the whole depth of the loft hatch opening if having a 125mm raised loft floor. Made of pine wood.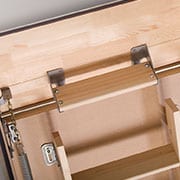 Additional Tread
This is a useful feature for when the loft floor is to be raised 125mm or higher.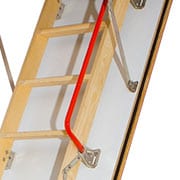 Extra Handrail
Feel more confident having the security of handrails when using your loft ladder? These handrails are available for use with our standard loft ladders and are even available as a second rail if your chosen ladder is already supplied with one.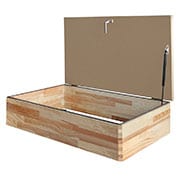 Upper Hatch
This is designed as a safety measure and cuts out the risk of falling through the opening. It also minimises attic dust from accumulating on the ladder and trapdoor. Available for 3-section folding ladders & 125mm raised loft floors only.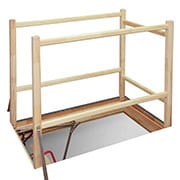 Balustrades
Feel a little concerned about walking around your loft space with that huge hole in the floor? You're not alone. 😳 These balustrades help keep you safe and prevent accidental falls. Available in wood or metal. The metal version can fit most loft ladder openings with an adjustable width of 500 to 750mm.
Some of the FAKRO ladders we install also come with other accessories such as unloading mechanisms or insulation kits. For more information on loft ladder accessories just ask our team.
How wide is your hatch?
As you may have gathered by reading through the specifications for some of the loft ladders above, hatch size really does matter! Not all existing hatch sizes will be suitable for all ladders. But don't despair, it is possible to extend some loft hatches to make them longer and/or wider. Yay!
Before you get too excited though, there are a number of factors that will dictate the feasibility of extending your loft hatch, including roof design, the age of the property and whether the ceiling contains asbestos. This is where a good surveyor comes in. Our surveyors will check if you can have the hatch opening extended for free. And if it's not going to be possible they will leave you with whatever options are available to you.
Can I extend my own loft opening?
We don't advise this, even if you think you're a bit handy with DIY. We strongly believe this is work that's best left to the professionals. It's not a massive job but it does get really messy, producing lots of dust and debris since plasterboards need to be cut into. Plus, making a mistake and cutting through something that you're not supposed to could make your ceiling or roof structurally unsound. You've been warned, folks! ⚠️
What's a U-Value?
Some of the timber folding ladders with integrated trapdoors we mentioned above list U-values in their specs. You might be wondering what those mean. Well, the U-value is the measure that incorporates the thermal conductance of a building together with the transfer of heat due to convection and radiation. Still with us?
In slightly simpler terms, the lower the U-value, the lower the heat loss from the trapdoor. As a result, there is a greater energy saving due to a lower amount of energy required to maintain a consistent desired room temperature. 🤓
Types of hatches and openings
Before we look at these just bear this in mind: if you're talking with any companies about loft hatches, make sure they are going to install one that's fully insulated and draught-proof. There's no point in having all that lovely insulation in your loft just for all the heat to escape through your hatch is there?
Here are some of the main types of loft hatches and openings that we work with: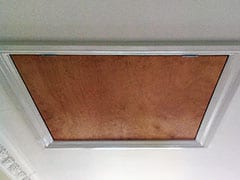 New Hinged Trapdoor
Need to replace the trapdoor to your loft with a solid hinged-down one? We can custom-make one to suit your loft hatch opening, which always comes fully insulated and draught-proof as standard!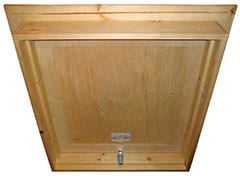 Timber Hatch
This is a custom-made timber loft hatch casing with a fully insulated and draught-proof 18mm hinged MDF trapdoor. It comes complete with a lock and is finished off with an architrave to suit your home.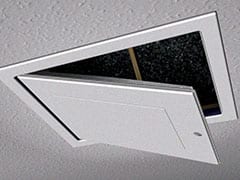 High Impact Polystyrene Hatch
This loft hatch meets the requirements of the BS 9250:2007 Code of Practice for the design of the airtightness of ceilings in pitched roofs. With the twist latch operation and common size match, this hatch is our most popular from our maintenance-free range.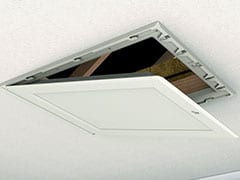 Lockable Hatch
The unobtrusive design of this loft door coupled with sleek, contemporary styling makes it an ideal match for modern decors. It is supplied with a key lock for additional security.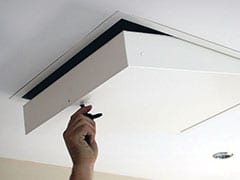 Steel Lockable Hatch
This is a premium steel loft hatch finished in powder-coated white and can be painted to blend with the surrounding surface. The door panel is a high-quality robust access solution suitable for everyday use with all the discrete advantages you should expect. The spring-loaded invisible keyhole provides a seamless finish, without the unsightly white caps that can spoil the finished design. Perfect for those of you planning to store old treasure maps up there! 😉
Got any questions for our loft ladder experts?
If there's something we haven't covered in this guide that you're dying to ask us we'd love to help. Just click on the link below then choose the "I need more info" option.
Using your ladder safely
Making it easier to access your loft is one thing but ensuring your safety whilst doing so is another.
Take a look through the web and you'll be sure to find stories on accidents caused by the misuse of loft ladders. All ladders are designed by manufacturers with the user's safety being the crucial factor. Be sure to follow all provided instructions during the installation of your new loft ladder.
If you're using a professional, make sure they have walked you through the loft ladder's whole operation process and explained and made you clear of the loft ladder's maximum load. If it's The Loft Boys who installed your loft ladder our fitters will be really happy to show you the best and safest way to use it. Don't be afraid to ask!
All loft ladders will specify a maximum load and you should pay special attention to this because it's in place for a reason. Take a look at the most basic design of the loft ladder and you will see that they have a maximum load of 100kg (roughly 15.7 stones). Imagine your weight with a heavy box of books. Chances are this will push you near to that limit. These loft ladders are designed to get you into the loft space only and it would be sensible to call in a favour and have a friend help you by passing items up once you are in the loft.
What's the rush?
Take your time! There's no need to rush up the loft ladder, especially if you're only retrieving a few stored items. Okay, you might rush if a leak has sprung from the water tank but you should always put your safety first. Just a quick couple of seconds ensuring all locks etc are fully engaged could be the difference between a safe climb and a trip to A&E!
Another important bit of safety advice… never use a loft ladder that shows signs of damage or faults. If in doubt speak to our team.
Loft ladder maintenance
Maintenance is essential to prolong the loft ladder's life and will ensure it functions correctly and easily. We all have a can of spray lubricant laying about… don't we? If not, you can pick these up in many shops. A quick blast on the major components and locks every few months or uses will make sure those locks engage and the operation remains smooth. However, be sure NOT to get this on the treads or steps. Should this happen, make sure to clean it off thoroughly before attempting to climb the loft ladder!
And as our surveyor mentioned earlier in this guide, dust can accumulate on the ladder over time, which will eventually impede its normal use. So should it some love and give it a brush now and again and it will last longer!
Can I install a loft ladder myself?
The simple answer is yes, it is possible to install some loft ladders on your own, although it would be easier with a friend lending a hand. You'll need to be confident with DIY and handy with the tools. This is definitely not a simple job though, by any means. It's not on the same level as say, putting up some shelves or constructing an Ikea chest of drawers. There are lots of things that could potentially go wrong and the fact that you'll be climbing up this thing for years to come means you really need to get it right the first time.
We're not trying to put you off. Obviously, we're kind of biased since we install loft ladders every day. We just think it's sensible to know what you're getting into before you buy a ladder and get ready to start installing it. And on that note, our friends over at FAKRO have created a bunch of really helpful instruction videos. Here's one that shows how to install the LWL wooden ladder that we presented earlier in this guide:
If you'd like to find more of their videos they've also created this handy playlist showcasing more of their ladders.
Conclusion: The type of loft ladder you need really depends on how you'll use your loft. So have a good think about that before making any decisions because making the right choice will save you money in the long run.
Before you decide on which ladder to buy, have a really good think about what you'd like to use your loft for. Buying a cheap and cheerful ladder might seem like a good idea right now. But just bear in mind that you could start using your loft more regularly in the near future and that cheap ladder might not be up to it. Maybe you're planning on having a child soon. In which case you'll want to utilise as much space as possible and your loft could start getting used all the time.
Or you might be looking to sell your property and you know that making the loft into a more appealing and energy-efficient space will increase its sale value. Therefore maybe investing a little more in the ladder will help entice buyers.
Whatever you decide we hope you found this guide useful. And if you have any questions about topics we might have missed then please let us know.
If you'd like to nerd out on some other loft-related topics why not check out our compressive loft boarding guide? Want to save money on your energy bill? We'll tell you how in our guide to loft insulation. Or, head over to our loft packages page to see what you can get for your budget. Or finally, read about some of the ways we go the extra mile for our customers.
Need a quote for a new loft ladder and boarding installation?
We currently only install loft ladders as part of a larger loft package. So add on loft boarding or insulation and you're all set. If in doubt please still get in touch.