So, you've finally taken the big step of getting your loft boarded. Now your plan is to keep it dust-free, clean and tidy. After all, that's where you're storing some of your important or valuable belongings, right? In reality, it doesn't always work out as planned for some. So we've put this handy guide together with tips to help you keep your loft spick and span!
How to achieve a clean and dust-free loft
We'll let you in on one of our top secrets for maintaining a clean and dust-free loft. It's all about the lining used on the inside of your roof! Then the rest will depend on what you do with your loft. When we do our pre-installation loft surveys, we'll often propose a few different options to make sure the loft stays free from dust in the future.
The first option – The breathable membrane
This involves lining the inside of the roof with a breathable membrane. This is installed across the face of the roof rafters throughout the entire loft space. It's effective in stopping dust from entering whilst letting moisture escape from the inside. The only downside is it's not the nicest looking finish though but it certainly does the job!
The second option – Foil insulation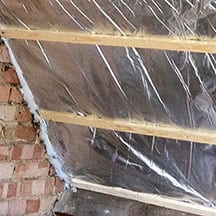 This option involves us lining the inside of the roof with foil insulation, which serves the same purpose as the breathable membrane. It comes with one added benefit though, and that's insulation. The foil lining actually regulates the temperature within the loft which means that the loft will maintain a well-regulated temperature during the extremes of summer and winter. This is particularly useful if you're planning to store sensitive items or looking to do a little more than just store things up there… plus it also keeps the dust from entering.
Again, this doesn't provide the nicest of finishes. In fact, it makes the loft look like the inside of Apollo 13, but it certainly will help with keeping your loft clean and insulated.
Option three – The clean finish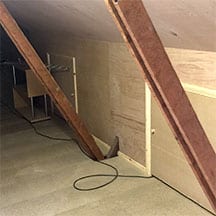 Although there's obviously nothing wrong with a loft that looks like the inside of a spacecraft, some folks prefer an ultra clean finish within the loft. In those cases, we offer the option of lining the loft with plywood. This is normally done when people have the roof insulated with the foil mentioned above. It offers a robust and sturdy finish to the inside face of the roof and can be painted to really tidy things up. Giving your loft an even less spooky feel to it!
It's quite normal for customers who choose this option to have what we call 'Eaves Partitions' formed as well. These are vertical walls that run along the pitched roof elevations of the property and have access doors spaced equally throughout. This then allows people to store their goods behind the partitions, leaving the main area of the loft free for other uses.
How to get your loft tidy and well organised
Once you know that your loft is going to be clean and dust-free, this is the next thing to tackle. We have the following three top tips for you:
Think about the types of things that you're going to store in the loft, and ask yourself a few questions before deciding to store them up there. Am I still going to need these things and when? This is easier to answer when thinking about your seasonal items such as skiing equipment, beach umbrellas or Christmas decorations. What about random old stuff like baby toys and clothes of now teenage children? Would storing them actually save them or would they just disintegrate, and render themselves useless in a few years?
Our second tip is to either store them in boxes and stack them neatly or place them on shelves where they are all visible. (By the way, we can also install shelving units into your loft for the ultimate in loft organisation!). For items that are in bags or boxes, carefully place a label on them with the name of the items stored within and the date if that is applicable.
The last one may sound a bit nerdy but it is extremely helpful to make a list of the stored items. Why not create a spreadsheet or write into a notebook a list of items, who owns it, date stored, expiry date if applicable and other notes that might come in handy? Just don't forget to share this list with your partner or family members so you all know what the family has in storage!
Consider having some web shelving installed if you have a suitable loft. These are an excellent way to store your boxes at an easier to reach height. Plus it's the ultimate way to keep your loft really tidy.
We hope you've enjoyed these tips to keep your loft clean and tidy!
WOULD YOU LIKE A FREE QUOTE?
We can help you figure out exactly what needs to be done to transform your loft into a usable storage space. Just call us on 0800 6128 933 or
Was this post useful? Here are some other's you might like...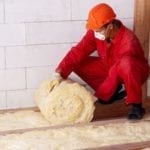 With winter on its way, if not here, we're all turning up our heating to make sure we don't freeze at home. This can get expensive if you're losing a...
Read more »
Insulating your loft should be a no-brainer. It means not only huge savings on your energy bills; it also slashes your carbon footprint. So why doesn't everyone have it done? People...
Read more »