Even if you're only going to access your loft once a year, you need a good loft ladder. Using a stepladder or even a chair is just a disaster waiting to happen.
So how much should you expect to pay for a loft ladder? That depends partly on what kind of ladder you need, but also on whether you're more interested in safety or cutting costs. You can find loft ladders online as cheap as £50, but you get what you pay for, and you may not want to trust your weight to something cheap and flimsy.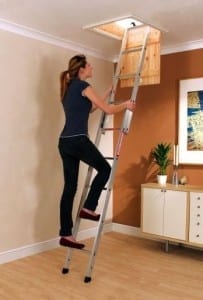 Sliding Loft Ladder
If you only make occasional forays into your loft, a basic sliding loft ladder in two or three sections should be fine. This type, normally made of aluminium, pulls down by the sections sliding out from one another and can be attached to the hatch. To be assured of a solid, reliable ladder, £200 is a good guide price for a three-section ladder, or a little less for a two-section one.
If your loft ladder's going to see heavy use, though, you'll need something more than a basic model, especially if your journeys up and down might be precarious. A deluxe sliding ladder, with features like handrails and spring-assisted operation, is significantly more expensive, with a top-class ladder perhaps costing around £550.
Concertina Loft Ladder
If you have either limited storage space for the ladder in the loft or limited clearance below, a sliding ladder won't be suitable. If you have problems with both, the ideal solution is a concertina action ladder, which folds into itself when stowed and has an adjustable gradient. The price will depend on size as well as quality, but £450 is a good guide price.
Telescopic Loft Ladder
This too allows your loft ladder to be packed into a tiny space when folded up. Though it doesn't have the adjustable gradient of the concertina model, a telescopic ladder can also fit into very limited clearance. Again, price will vary depending on the size, but you shouldn't pay more than £480 for a top model.
Folding Loft Ladder
Most loft ladders are made of aluminium, which is a tough, flexible and lightweight material. If you want something more stylish, though, a folding ladder can be made of timber. £500 would be a good price for a top timber folding loft ladder.
If you're in doubt as to which options would best suit your needs, feel free to get in touch with us for a chat.
If you've got a need for more loft ladder info why not check out our comprehensive ladder guide?
Was this post useful? Here are some other's you might like...
However great your loft is, it won't do you much good if you can't get into it. If you try climbing an unsteady step-ladder or standing on a chair to...
Read more »
Have you ever accessed your loft by climbing on an unsteady stepladder (or, worse, standing on a chair) and hauling yourself up? It's not only dangerous, it's also ridiculously difficult....
Read more »
If you're intending to use your loft for any purpose it goes without saying that you need a means of accessing it. For a conversion as a fully used room,...
Read more »