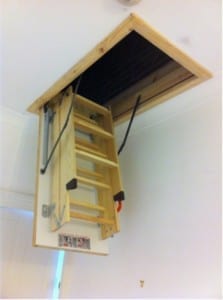 If you're intending to use your loft for any purpose it goes without saying that you need a means of accessing it. For a conversion as a fully used room, you'll really need a fixed staircase, especially if children or older people are going to access it. If you're simply using it for storage or for a hobby space, though, the best solution is a loft ladder. But which of the many types available will be best for you?
Types of Loft Ladder
The simplest type of loft ladder is the sliding ladder, which slides together in two or three sections and can be mounted either on the loft hatch or separately. More sophisticated models can have handrails.
If you have less space in your loft to stow the ladder, a folding ladder tucks away neatly.
A concertina ladder takes up even less space in the loft and is adjustable for tight landing spaces.
A telescopic ladder has similar advantages to the concertina ladder, but is even easier to operate.
The usual materials are wood or aluminium, although loft ladders are occasionally made of steel. Aluminium is tough and light, but sometimes bends when you put weight on it. This is normal and not at all dangerous, but if it disturbs you, you may prefer a wooden ladder, which also looks more stylish.
What to Consider
The first thing to think about is what you want to use the ladder for. If you're only intending to use it occasionally, for instance, and carry light loads up and down, a simple folding ladder may be enough, whereas for frequent use you may want a model that operates more easily, such as a concertina or telescopic ladder.
It's important that you select a ladder that will take the weight you're going to put on it. Calculate the heaviest weight you're likely to transport and add it to your own, and make sure the ladder you choose meets that specification.
You need to take careful measurements, both for the clearance above and below the hatch and the vertical distance from the hatch to the floor below. Both the type and size of ladder you choose should depend on whether it fits the space available.
And, finally, the cost will obviously be a factor. A simple folding ladder is the cheapest option, but it'll be a false economy if it won't do the job you need.
If you want more advice on what loft ladder you need, feel free to get in touch for a chat.