Most of us need extra space at home right? Whether it's to store the clutter we don't want to get rid of or to have a dedicated space for pursuing a hobby. The ideal unused space is the loft, but bare joists aren't good enough for safe access and falling through the ceiling is no joke! So, let's explore some of the types of loft boarding and their costs.
If you want a genuine room up there, you'd need a full loft conversion, which is a big job, but for most purposes you just need the loft boarded over. This also has the added benefit of making your insulation more efficient. And it doesn't have to cost the earth, either.
Types of Boarding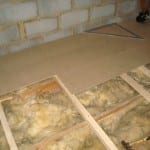 There are various ways of going about boarding your loft. Some are simpler and cheaper than others, but, as is often the case, these can have drawbacks. The main approaches are:
Laying chipboard directly on the joists. This is cheap and can be done by an expert DIYer. This doesn't leave any room for the recommended insulation depth of 240-270mm, though. And what insulation is possible will be squashed down, not allowing enough airflow to prevent condensation.
An alternative is to buy insulation boarding which is laid over the joists to make up the insulation depth, then laying chipboard over it. However, insulation boards are expensive and don't solve the airflow problem.
The floor level can be raised by attaching counter battens to the top of the joists and laying the boards on top. This will allow enough space for insulation and airflow.
A variant of this is to use a raised floor system, such as the awesome LoftZone. This is an expert job to fit but will give you a professional finish.
How Much Will Boarding Cost?
If you're going to buy boarding to do it yourself, you can get 18mm of chipboard at around £10 for a sheet of 2400m x 600mm. While insulation boards tend to average around £20 per sheet (and then you need the chipboard as well).
If you're having your flooring fitted professionally, you'll be given a quote including both materials and labour. The amount depends on how much boarding you need and what method you've chosen. 15m2 of flooring is enough for the average loft storage requirements, for instance. A typical loft installation with this quantity of flooring, a basic loft ladder and light would cost from £1,600. Prices are higher if we use the more sophisticated LoftZone StoreFloor system. Check out this page for typical loft package prices.
Read more: our ultimate guide to loft boarding and flooring.
A Professional Job
Unless you really love DIY and have confidence in your expertise, getting your loft boarded professionally is cost-effective, and you can be sure of a high-quality job. Contact us if you want to know more about loft boarding or would like us to give you a quote.
Was this post useful? Here are some other's you might like...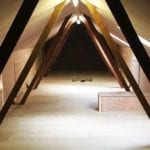 If you're boarding your loft, you probably want to increase the amount of storage space available. But is this really the best option? What about using a self-storage facility? Self-storage has...
Read more »
If you're intending to use your loft for any purpose it goes without saying that you need a means of accessing it. For a conversion as a fully used room,...
Read more »
As living space has become more and more of a premium, we've begun to realise that we've traditionally wasted an entire level of our homes – the space under the...
Read more »