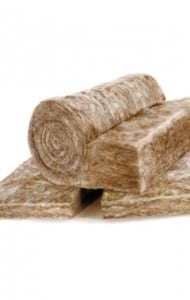 We all need loft insulation. Besides cutting your carbon footprint, effective loft insulation can slash your heating bills by up to £250 a year. The problem is there are many different options for insulation. So which is best?
Warm Lofts and Cold Lofts
One big choice is whether you need a warm or cold loft — misleading terms, since a cold loft tends to be hot in summer and cold in winter.
For a cold loft, the only insulation needed is between the floor joists, preventing heat from getting into the loft. This has the advantage of being cheap and relatively easy to install, but it leaves the loft subject to temperature fluctuations and condensation. A cold loft would be unsuitable if you plan on storing materials sensitive to either, or if you intend to use the space for activities.
To create a warm loft, on the other hand, the insulation is divided between the loft floor and the underside of the roof. This means that some heat can get into the loft and regulate its temperature, but is prevented from escaping through the roof. A far wider range of uses are possible for a cold loft, but the process of insulating the roof is harder and more expensive than installing insulation between the joists.
Types Of Loft Insulation
Blanket insulation — The most common form of loft insulation, this comes in rolls of rock, glass or mineral fibre, or else foil-backed felt. It's generally the cheapest option and a good all-purpose insulation, especially for between joists. It's the easiest type to fit, but isn't suitable for the roof.
Loose-fill insulation — This is loose lightweight material, such as cork granules, cellulose fibre, mineral wool or even recycled newspaper. It can be used to top up existing insulation, but isn't very secure.
Blown-fibre insulation — Loose materials of various kinds blown in between joists, this is ideal for hard-to-get-at places but doesn't offer a full solution, especially in a draughty loft. It's also expensive, and needs to be done by a professional.
Sheet insulation — Firm boards of either synthetic or natural materials, this is the best solution for insulating the underside of your roof. The boards provide highly effective insulation and can be decorated over, but sheet insulation tends to be the most expensive type.
Home Insulation Choices
The insulation you choose for your loft will depend largely on the use you're intending to make of the space, as well as any specific challenges it poses. If you need to discuss your options further, feel free to contact us for a chat.