Through our years of working in the loft industry, we've come to realise that homeowners too often forget about the potential of their own loft.
People always think about extending their houses when they need more space, but for some reason, lofts are often forgotten in their plans.
The Loft Boys are absolutely passionate about lofts, so we thought we'd give you some ideas on things you can do with that extra space in your house.
1. Convert your loft into storage space
Ok, this one is a bit obvious coming from us, but one of the easiest (and cheapest!) things you can do with your loft is to turn it into storage space. All it takes is loft boarding and flooring, some lights and a loft ladder. And best of all, you can choose how much of the space you actually want to use for storage, meaning that you don't have to convert your whole loft.
2. Convert your loft into an extra bedroom
If you're running out of living space, it is often possible to convert loft space into a new room. The costs involved are going to be higher than for a simple storage transformation, but it can ultimately increase the value of your home. For a living space, insulation will have to be properly thought out, and in most cases, planning permissions are not required (more info here ).
3. Turn your loft into a home theatre
If money is no object, then creating a home theatre in your loft is a great idea. Think of it as the ultimate man cave, a place to escape from the kids, family and the daily routine (although we're sure you all have lovely families who you want to spend all your time with!). Imagine your own custom sound system, projector and comfy couch…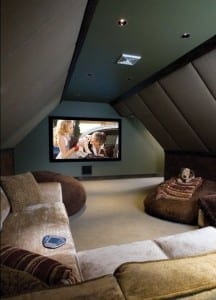 Ok, enough of our big boy's toys dreams for now!
We'd love to hear how you use your loft or what your dream loft would be, so feel free to send us your comments.
And as usual, get in touch with us for all your loft storage questions or see how we go the extra mile for our customers.
Was this post useful? Here are some other's you might like...