Many of us are looking to increase the options in our home by making more use of the loft, whether we simply board it over or go for a full conversion. If all you want is a boarded loft for more efficient storage, there are few restrictions. If you're going to convert the loft into a functional room, you'll need to follow building regulations and may need planning permission.
What are the Building Regulations for a Loft Conversion?
If you're converting your loft into an extra bedroom, a playroom or some other room, the work will have to meet the government's Building Regulations. It's your responsibility to check exactly what needs to be done before the work starts, but the main points are:
The loft must be fully insulated — a no-brainer, as it's inexpensive and will slash your heating bills.
All doors, floors and stairs must be fireproof for at least 30 minutes.
The room must be accessible via a fixed staircase, not a retractable ladder.
New joists must be added if needed to support the extra floor weight.
Similarly, if you're adding to the roof, the walls must be sufficient to bear the weight.
All electrical work in the conversion must be carried out by a certified electrician.
There must be headroom of at least 2m on all escape routes.
Do I Need Planning Permission for a Loft Conversion?
Unlike extensions, loft conversions don't necessarily require planning permission, unless you live in a national park, conservation area, World Heritage Site or Area of Outstanding Natural Beauty. This is subject to a number of exceptions, however. A full list can be found on the government's planning portal website, but cases requiring permission are broadly:
If the additional space exceeds 40m3 for a terraced house or 50m3 for a detached or semi-detached house.
If the extension is higher than the existing roof or extends outwards from the plane of the roof on the street-facing side.
If any verandas, balconies etc. are added.
If the extension overhangs the building's original dimensions.
You'll also need to set up a Party Wall Agreement with your neighbour if the extension is going to affect any adjoining wall.
Do I Need Planning Permission to Board My Loft?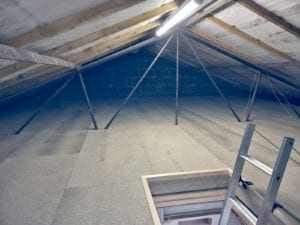 If you're not up for doing most of the requirements for a loft conversion just yet and not ready to spend thousands of pounds, you can save it for a later date. Instead, you can opt to get your loft insulated and boarded over to start with. You need it to be insulated anyway should you opt for a full loft conversion in the future. So it's never a wasted endeavour. Generally, you don't need planning permission when getting your loft boarded except when installing roof windows. They need to be signed off by Building Control.
Loft Conversion or Loft Boarding?
This comes down to what you will really be using your loft for and how much you're willing to spend. In summary, if you want to convert it to a fully functional room then a full loft conversion is right for you. However, if you are mostly going to be using it for storage or a basic hobby room (adhering to weight limits of course!), having it insulated and boarded over will be a practical option for you. It's still possible to have windows installed when you get it boarded! Either way, we hope this article is helpful in helping you decide what to go for.
Do I Need Professional Advice?
The short and sure answer is YES. When you've made your choice, it is vital to approach a reputable company for the job. Whether it is a full loft conversion or simply loft boarding, they'll be able to give you advice on the best steps you need to take. For a loft conversion, it is vital you have all the requirements sorted out before you start unless you want to risk having to demolish the conversion or spend more on bringing it into line with the regulations!
If you want to discuss what you need to consider for a simpler loft storage solution, feel free to get in touch with us. We'd be happy to help!
Was this post useful? Here are some other's you might like...