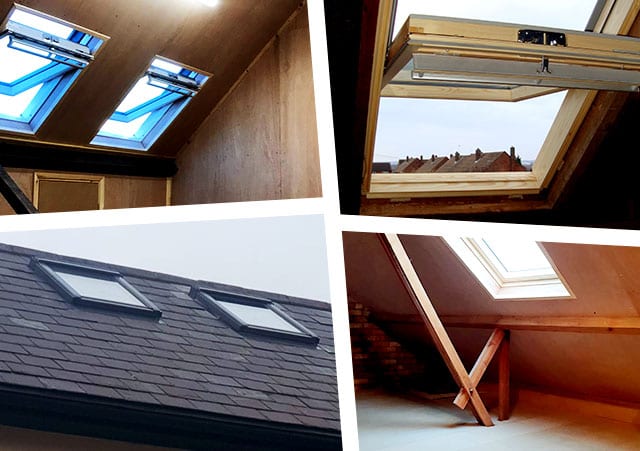 Would you like to find out more about loft and roof windows (also known as skylights)? How much do they cost and what are the different types available? Or would you like to know which types of VELUX windows we install and what their features are? If the answer's yes then this guide is more definitely made for you!
Guide contents
Use these quick links to jump to useful sections in this guide:
Who is this guide for?
Anyone who is curious about loft and roof windows and would like to get the full lowdown. We love roof windows! 😊
If you're shopping around for options and would like to know how we do things
Maybe you're into DIY and think you can take on a roof window install job? Seriously, we wouldn't advise it. We feel strongly that this is a job to leave to the professionals. If you'd like to know why read on.
If you're considering turning your loft into a "hobby room" and would like to know more
Why do you need a roof window anyway?
Installing roof windows is a great way to make your loft space more usable. They are well worth considering if you're going to be using your loft as a regular storage area. Or if you're thinking about turning it into a "hobby room" which is used often.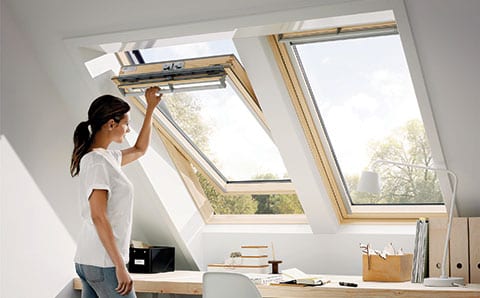 There's nothing better than throwing some natural light on a subject! It's by far the best way to illuminate any dark loft space. Not only because it performs so well – bouncing light around into every corner of the space. But also because it's free. Yay!! No switch is needed here! (Well, not during the daytime, at least!)
Roof windows come in many styles and can be very versatile. You can open them if you want to bring in the warm summer breezes or quickly release a build-up of moisture produced by the rooms below.
Loft spaces can become unbearably hot in warmer months so if you're going to be spending any decent amount of time up there we highly recommend windows as an option. Another option would be looking at a ventilation system although nothing beats throwing open a window and taking a deep breath of fresh air!
If you're contemplating this option to bring light into your loft, we highly recommended you employ the services of professionals like us. We'll go into why that's vital towards the end of this guide.
You'll probably also need artificial lights too if you're going to properly use your loft space. We've got a guide on lighting options you might find useful!
A considerable side-benefit – the value of your home
We've said this before elsewhere, but with storage space at a premium, the more space you have in your home, the more it's worth. Simple as that. Therefore creating usable space in your loft, whether it's for storage or for everyday use, can really make a difference to the value of your home. Throw roof windows (not literally) into the mix and you've got a winning formula there!
Before you get started
Before you decide to take the plunge and contact a roof window installer it's really important to decide exactly what you'll be using the loft for in the foreseeable future. Here are a few common scenarios that we encounter all the time:
You have stuff you don't use that often and you need to store it in a dry, safe place (helping people achieve this is what we live for!)
You've decided you need an extra bedroom/bathroom/man or woman cave and want to go for a full loft conversion (we don't do those!)
A full loft conversion is too expensive but you'd still like to utilise your loft space on a regular basis for non-storage purposes too (we categorise this as a "hobby room")
Basic storage spaces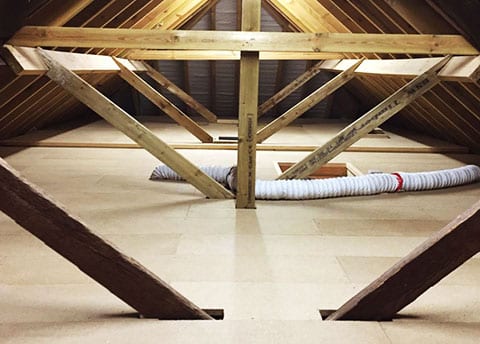 If you're considering the first scenario then perhaps roof windows are unnecessary and some decent artificial lighting would suffice. (Did we tell you we also do loft lighting?)
A full-blown loft conversion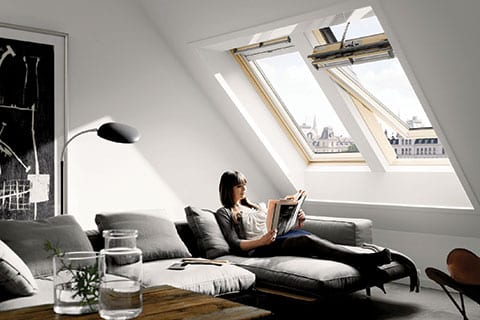 If you're going for the full loft conversion then you'll definitely be looking around at loft windows. Although we stay well clear of doing full-blown loft conversions we do work with the same types of roof windows you'll be considering. Therefore the information in this guide will be useful for you.
A highly versatile "hobby room"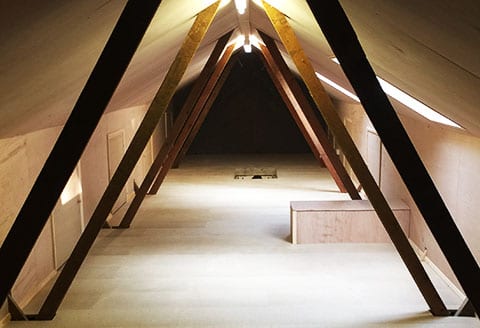 For those of you considering the last option of using your loft regularly then, roof windows are a really good decision. We categorise these kinds of lofts as "hobby rooms". This is because it's possible to work within the weight restrictions of a boarded loft floor (usually 25kg per m2) and have some lightweight furniture in there such as a small desk and chair. These types of loft spaces often have boarding covering every surface which makes it feel more like a room. Adding a window too will transform it further into a really decent location and enable you to do lots of different activities. Think kids secret den; personal yoga studio; model railway room; or as a quiet spot away from the kids to write that book you've always wanted to start.
If you're already getting excited about creating your own hobby space then we highly recommend you check out our ultimate guide to loft boarding. It's packed full of info you'll need to know before taking the next step.
How much do roof windows cost?
We know this is always one of the most important considerations when considering any work on your house. So let's get down to business!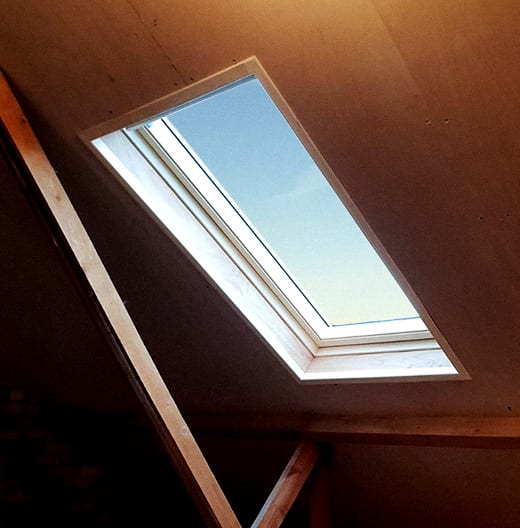 Firstly, we currently only work with VELUX roof windows. We think they make the best quality roof windows and their features are top-notch! Therefore our pricing is based on the common VELUX windows we install. There are other roof window manufacturers out there who may have different pricing, but for the purposes of this guide, it's all about VELUX (who we think are awesome by the way!).
Secondly, our prices include installation by one of our fully-trained roof window fitters.
We can install a 500 x 780mm centre-pivot hinged window from £1,206 inc. vat. For the larger version at 780 x 980mm, it's £1,466 inc. vat. That price also includes the appropriate flashing kit to suit your property (more on those below).
Do prices vary?
Yes, they can and if you continue reading you'll see that there are lots of options available that may affect the price. The prices above are for the windows we most commonly install.
Need a quote for some roof windows?
We just need to have a chat to run through your requirements before booking your free survey.
The different types of roof windows
As we've already mentioned above, we only supply and install roof windows made by the market leader, VELUX. We've chosen to work with them because they produce extremely high-quality windows that offer the best value for our customers. They also come with some really cool features that we'll get into below. Our team now have extensive experience fitting these windows and we've even created our own training facility that enables our fitters to train and practice window installs before going on a job.
Standard VELUX roof windows come in two main types, top-hung and centre-pivot. There's also a third type that we sometimes install which is the VELUX INTEGRA® electric or solar-powered roof window.
The top-hung variety is a little more expensive and are only suitable for roof pitches between 15° and 55° (that can be increased to between 55° and 75° with special springs). The centre-pivot type is suitable for pitched between 15° and 90°.
Here are some of the benefits of each as defined by VELUX themselves:
Top-hung roof windows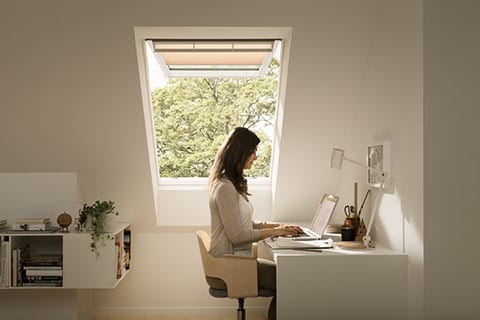 VELUX top-hung roof windows can transform a dusty roof loft into a bright usable loft space. Offering more headroom and a greater feeling of being outside, these windows will really enable you to make the most of the view. Operated with an elegant handle at the bottom, VELUX top-hung roof windows give you a full, open view of your skyline and maximise the amount of natural daylight that can be allowed in. We recommend top-hung roof windows if you have to, or wish to, place your window in a high position, for instance in connection with a high knee wall.
Top-hung windows also come in two opening angle varieties: 30° or 45°.
30° Openings
SC-GHL and SC-GHU windows open to 3 positions – 5/15/30 degrees.
These windows are designed for lower roof pitches.
45° Openings
SC-GPL and SC-GPU windows open to any position up to 45 degrees.
These windows are intended for higher roof pitches.
Due to the wider openings, a large selection of these windows are suitable for fire escape purposes.
Centre-pivot roof windows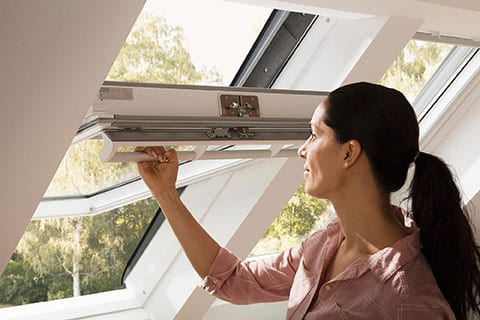 A centre-pivot roof window is very easy to operate. The innovative top control bar allows you to install the window lower than an equivalent top-hung operated roof window to get an excellent view while standing and when seated.
We recommend centre-pivot windows if you have to, or wish to, place your window in a low position, for instance: in rooms with a low ceiling or where you'd like a better view of the surroundings below.
INTEGRA® electric or solar-powered roof windows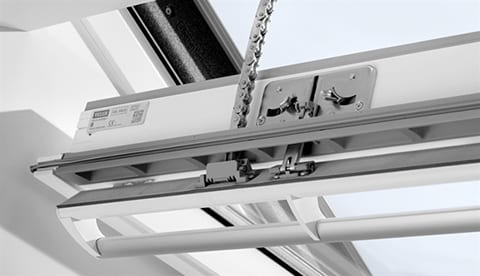 These windows can come in either centre-pivot or top-hung varieties. The main difference with the non-electric type is that these come with a fully integrated motor which opens the window for you and runs almost silently.
The window is operated by a control pad with a touch screen and swipe function which uses icons for easy and intuitive control.
The power supply either comes from the mains or the sun with PV solar cells on the window frame itself.
As you might have guessed, the mains-powered windows will require extra electrical work to be done in your loft. At The Loft Boys, we use NIC EIC approved contractors to do all our certified electrical work.
INTEGRA® Benefits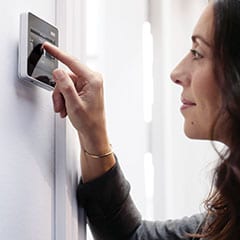 Fresh air and a better indoor comfort
Sleeping, showering and cooking all increase the overall humidity levels in our homes. Poor indoor air quality seriously affects our general well being, but a few daily routines can have a great effect on your indoor comfort. Let VELUX INTEGRA® roof windows give you a helping hand. Simply use the pre-defined ventilation programs and enjoy automatic airing.
Worry-free home security
Imagine if you could close all your roof windows with a single touch. Now you can, with the intelligent VELUX INTEGRA® control pad. Simply press the "Leaving home" icon and all of your VELUX INTEGRA® roof windows will close at once wherever they are located in your house.
No chance of rain
What if it starts to rain and you're not around, or too busy, to close your windows? All of our VELUX INTEGRA® roof windows come with a rain sensor that closes your windows automatically if it starts to rain – so you never have to worry about the rain damaging your home.
Already convinced that you need to talk to us about getting roof windows?
Take the next step today by contacting us today…
Internal finish options
VELUX windows also come in three different finishes:
White painted finish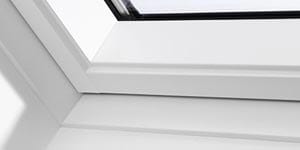 White painted roof windows are coated with a water-based lacquer and white paint that protects the wood against dirt and moisture. The bright white finish with discreet wood grain is perfect for modern interiors.
Pine finish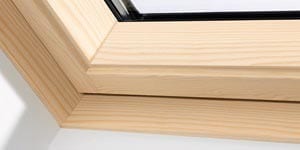 Pine finish roof windows are coated with a water-based clear lacquer that protects the wood against dirt and moisture. Matches perfectly with traditional interiors.
White polyurethane finish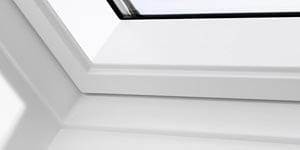 White polyurethane roof windows feature a strong core of thermo-modified wood with a seamless waterproof polyurethane coating. The maintenance-free, bright white finish with no visible joints make them ideal for modern homes.
Exterior finish options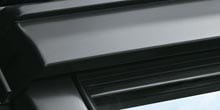 All VELUX roof windows come with grey aluminium exterior covers as standard. You may also select copper, titanium zinc or coloured aluminium.
Other roof window features
ThermoTechnologyTM
Experience a more comfortable home and lower energy bills with VELUX ThermoTechnology™. Innovative use of high-performance materials in the window construction provides excellent energy efficiency, insulation and an airtight seal. Look for the ThermoTechnology™ seal for your guarantee of excellent energy efficiency.
Natural ventilation

Let fresh air into your home even when you are away or sleeping, without having to worry about security or bad weather. Pull the unique top control bar once and you will allow fresh, filtered air to enter through the ventilation flap.
Glazing performance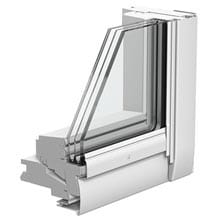 VELUX have thought of everything. As well as the standard window panes you'd expect they also have options for panes that offer extra noise reduction, energy efficiency or privacy using opaque coatings.
Roof window accessories
Window Blinds
If you'd rather your neighbours didn't see your plans for world domination from their roof window then you'll probably be wanting some blinds. As you should know by now, VELUX doesn't do anything by halves so as you might expect they do a wide range of blinds and other accessories.

Roller Blinds
The VELUX roller blind provides basic privacy whilst still allowing natural light in. A roller blind is an effective and practical solution that offers protection and good looks. Roller blinds are therefore well suited for all requirements wherever the window may be situated.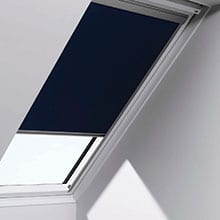 Blackout Blinds
The VELUX blackout blind gives you darkness 24/7 (although we're not sure why you'd need it all the time). It has a reflective aluminium coating on the rear side that reflects heat from the sun in summer whilst retaining heat in the winter months. They are of a modern design and fully integrated into the roof window, installation of these blinds are off a pick&click system enabling the user to fit the blind in no time at all.
Flashing Kits
Flashing Kits are required on all VELUX windows to ensure the windows are watertight and are available in all sizes to suit window type.
EDZ
Flashings for installing one roof window in a flat or profiled roofing material. Minimum profile of 15mm and a maximum profile of 45mm. Suitable for 20°-90° roof pitches.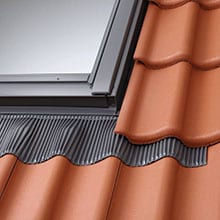 EDW
Flashings for installing roof windows in flat or profiled material up to 120mm in profile. Also for interlocking slate, thatch and profile sheeting. Suitable for 15°-90° roof pitches.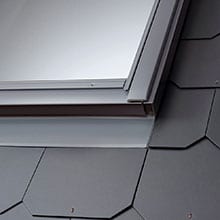 EDL
Flashings for installing roof windows into non-interlocking slate up to 8mm thick. Suitable for 15°-90° roof pitches.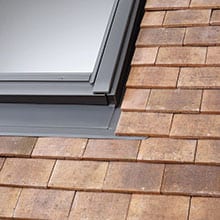 EDP
Flashings for installing Roof windows in plain tiles (max length 340mm). Maximum thickness of 15mm. Suitable for 25°-90° roof pitches.
Window cleaning and maintenance
How to clean your window
One of the very cool features with VELUX windows is the ability to flip the sash 180 degrees so you can clean the outside pane yourself! Amazing huh? (Sorry window cleaners but we've got this one!)

The sash must be secured in position by sliding the barrel bolt into the bushing at the bottom of the side frame (whatever the heck that means!). Don't worry, all VELUX windows come with very good instructions. The air filter can be removed and washed with ordinary household cleaners. Fully rotate and secure the window in the cleaning position, then remove the filter from the filter rail.
Window maintenance

If you want to prolong the longevity of your roof window or simply give it a touch-up, then VELUX has you covered. They offer a range of products that will come in handy if you want to replace an air filter, repair a scratch, lubricate hinges, or paint your window and give it a new and shiny look. Check out their maintenance kits here.
Keeping your kids safe around roof windows
Just as we adults love a nice view, remember that it's no different for children. Therefore it's extremely important that small children are never left unsupervised around windows. Roof windows, in particular, might be more enticing to look out of. Plus, depending on the roof pitch and position of the window the opening could be lower and easier to climb out of.
VELUX has produced an opening restrictor that when fitted will only allow the window to be opened a small amount, enough for ventilation. You then need a key to fully open it. This is a must if you have kids that can already reach the window.
Can I install a roof window myself?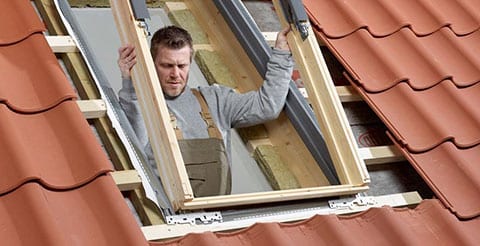 We strongly believe this is a job you should leave to the professionals. Anything which requires you to cut through the roof or add extra weight to it (as this does) must be done with extreme care and by someone who knows exactly what they are doing!
Yes, you can find guides and videos saying that an experienced DIYer or unbelievably someone "completely new to the home improvement game" can do this job. What these guides often miss is the fact that in the UK there are many different types of roof design and tile configurations. Therefore there's a lot of knowledge required before you even start the job. These guides also tend to gloss over some really important details like whether your roof is even strong enough to take a window in the first place. They also just briefly touch on the part where you have to cut a whopping big hole into the side of your roof!
One of the reasons that this job is often thought of as achievable by a DIYer is that you can do the whole installation from inside the roof. This means there's no need to have to work at height and creep around on a dangerous roof. Even so, getting all the parts installed in a safe, neat and tidy way requires a number of skills that we think go beyond the usual set that a DIYer has.
This job will require you to have experience with the following types of tasks:
Removing tiles that might be nailed into place
Cutting through roof support battens that sit underneath the tiles
Reinforcing the roof with additional timber framing
Cut roofing tiles with an angle grinder
Make the whole water-proof with a vapour barrier
Leaving this job to the professionals means it will get done much quicker and probably to a much higher standard to boot. Plus you'll usually get a guarantee with the work for extra peace of mind.
If you find none of the above intimidating and you think you've got what it takes to do this job, fair enough. We wish you the best of luck with your project! Our friends over at VELUX have several videos that you should definitely check out including this one:
How we train our roof window installers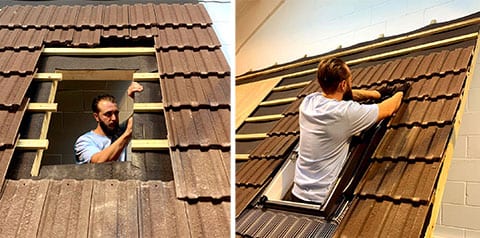 We take training very seriously at The Loft Boys. Some of the regular tasks that our fitters undertake can be taught to an apprentice whilst we're on a job. Others are harder to teach in this way. We found that installing roof windows was one such task, so we decided to build our very own training centre. So now our trainee fitters get to practice roof window installs for as long as they need. Therefore, when our guys arrive at a property they know exactly what they're doing and can hit the ground (or loft space) running!
Why are we telling you this? Well, mainly because if you're going to use us to install some roof windows we want you to have the peace of mind that we know what we're doing! But also, we're really proud of the training centre and want to tell the world about it!! 🤓
Our 10-year roof window guarantee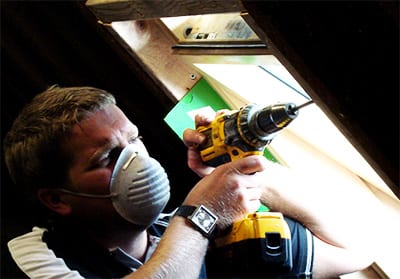 Here's some more good news. We're so confident in our roof window install skills – and the superior quality of VELUX windows – that we cover all our work with a rock-solid 10-year warranty.
Conclusion: Installing windows into your roof is the perfect addition to a usable loft space
Roof windows are clearly a bit over the top if you're just using your loft space now and again. Although the expense isn't huge or the work too onerous – it's only worth having them if you're going to use them right? We recommend having a really good think about what you're going to be using the loft for before deciding on windows.
If however, you're going to be making regular trips up into the loft. Or perhaps you're thinking about using it as a "hobby space" then windows are a great addition. There's nothing like throwing some natural light on a subject! Plus you'll find that an instant blast of fresh air is often a godsend up there in the warmer months. Remember that VELUX windows also have air vents built into them enabling constant airflow.
They are also a good idea if you're considering selling your property at some point down the line. That's because, as with other loft work, they will invariably increase the value of your property.
Are you considering roof windows along with other works such as loft boarding, insulation or web shelving?
Then our package builder page will help you get an idea of costs. Otherwise, if you've got questions about us or our services you could check out our FAQs page or just get in touch. Or read about some of the ways we go the extra mile for our customers.

Ready to take the next step?
Have a chat with us about getting some windows installed on your roof.